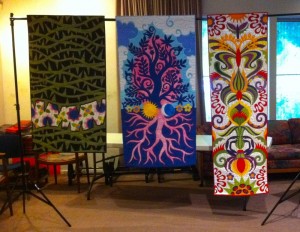 These are three of the quilts that Jane Sassaman brought with her for her lecture at Columbia Fiberarts Guild tonight. She is so talented and a genuinely funny woman. We had such a great time hearing her artistic journey. Here is a bad iPhone photo that I took before the meeting.
Before the lecture, we had a SAQA gathering for dinner and lots of chatter. Here are Terry Grant and Suzy Bates waiting for the guild meeting to start. I will be seeing them tomorrow morning for STASH. It is my quilting friends week!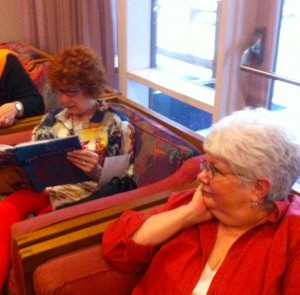 I finished cleaning up my studio and office. Now, I need to have some inspiration strike. I need to get a studio practice going once again. I have been in a slump. Wish me luck!! It would help if I stayed home. LOL!