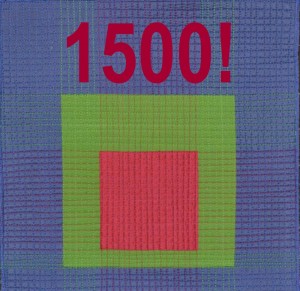 I was going to write a deep thought blog post about how I feel that after a year of wallowing, I feel as if a fog is lifting from my life. Then, I noticed that my last post was number 1500. That number was mind boggling to me.
To celebrate, I will give the 12 x 12 quilt up there to someone who leaves me a comment. It is one of the four quilts that I did for the eggplant challenge. They were subtitled, a la Albers. This photo is not a good representation of the true colors which are very rich. It is silk and quilted with silk thread.
I am happy to say that I am feeling lighter and happier and more in control of my life. I can't say that there is anything specific and it has probably been gradual. I hope that I can now begin to do work again that satisfies me and is worthy of my time and energy. This year has been a struggle for me. Thank goodness for the Twelve by Twelve challenges. They have kept me moving along and given me a sense of accomplishment when needed. And certainly, the Houston experience was a huge boost to our whole group.
I have been quilting Gwen's sunshine quilt. Here it is sandwiched and ready to go.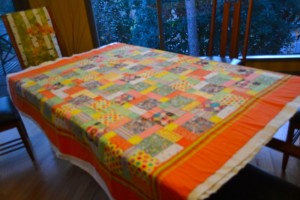 I haven't done much preparation for Christmas. We went out to the nursery yesterday and bought this pretty wreath made from rose hips.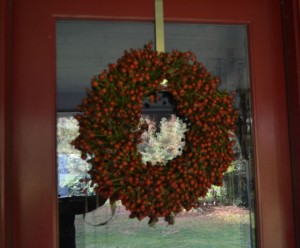 I think we will get a tree at the end of this week. We are hosting a party for one of the priests from Trinity. She is retiring this month. Steve is on the commission that worked with her, and so they are having a special retirement party for her. It will be an incentive to get the house looking Christmassy. (Is that a word?)
I hope you will leave me a comment. I will do the drawing on Wednesday.