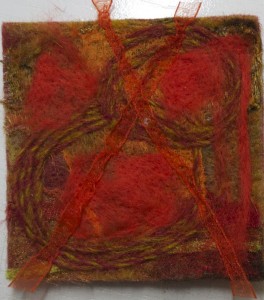 I am making progress in my studio reorganization. I feel that it is really helping me to go through all the stuff and rid myself of things that I accumulated and will never use. Some of it is fabric that people have given me because I am a fiber artist — but said fabric is not ever going to be used by me!! It is all going into a pile to go to SCRAP,the creative reuse center.
I have emptied enough wire rack bins to move my backing fabric and pfd fabric to those bins where they are more accessible. Tonight, I went through my batting bin and sorted and folded by sizes.
As is the case when you do something like this, the mess gets bigger before it goes away, but I am excited to get this done and get back to some creativity!
On another note, I am so excited that the ugly tree in our front yard is going bye bye. I have hated it since we moved in. The problem is that it sits right on the property line and our neighbors have never removed or cut back a plant  ever in their overgrown yard. She comes out once a spring and plants a ring of annuals around the tree and then we don't see her again for another year. (exaggerating a bit, he he) Here is the tree and a very cute dog.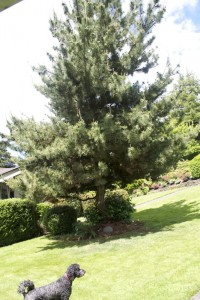 Another view:
And don't leave me a comment that you don't think it is an ugly tree!!
Our new landscape guy says the tree is ruining our lawn as the root system is sucking all the moisture from the soil.
If we pay for it, (ahem) they are willing to let us take out the tree and put in a new one. They get to approve or disapprove of what we choose. She wants a magnolia — of course she does — they drop nasty leaves and flower petals everywhere. It will not be a magnolia. Our arborist was here today and gave us some suggestions which we have run by our family landscape guru, Mark. I will keep you posted.
And to finish, I want to say how very proud I am of my daughter Lisa. She and her partner,Clay, are doing the 7 day Aids ride from San Francisco to Los Angeles. They have completed 3 days and are doing really well. Lisa was sick with bronchitis for 2 weeks before the ride, but she has recovered and feels really well.