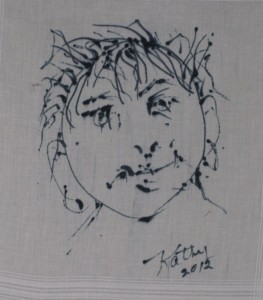 On the second day of our Deconstructed Screen workshop, Kerr paired us off with another member of the class and we were give 2 minutes each to share some things about  ourselves. Then, we were told to do a portrait of the other person, actual or metaphorical.
Above, is the portrait done by Kathy of me. I quite like it!!
Kerr had demonstrated using a syringe with thickened dye to draw on fabric and screens. For our portraits, she wanted us to draw on a screen. Oops! I missed that instruction, and I drew directly on the hanky that Kerr gave us.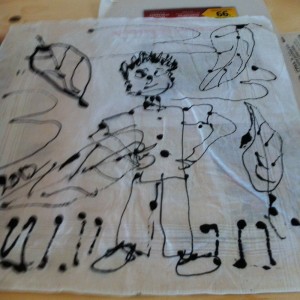 So, I pulled out one of my deconstructed screens and drew the portrait again. I did 2 prints. The first was printed on a teal shibori fabric.
I thought this was a bit muddled so I printed it again on white fabric.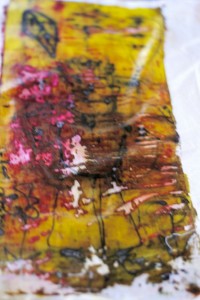 I am wondering how they looked when they were washed out. Hope I get to see them. Needless to say, Kathy is the only one who got 3 portraits!!
I have had a busy day, still catching up on things on my to do list. Mr C is in Corvallis for the week so Scooter and I are keeping each other company. Here is my hand stitched 3 X 3 for the day: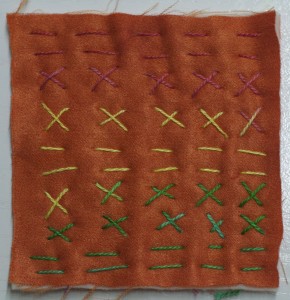 Now, I am going to stitch a sleeve on my Mr C and Scooter quilt so that I can send it to SoCal for the Dinner at Eight exhibit at IQF Long Beach.