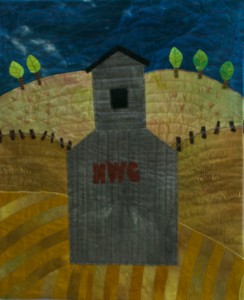 This is a little piece that I did earlier. It is an homage to the grain elevators you see in eastern Oregon and Washington, surrounded by golden fields of grain. My favorite part of this piece are the little details that I added. I did lots of stitching with perle cotton.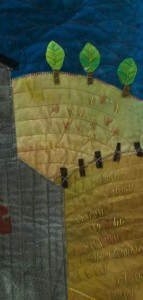 Today, we braved the wild weather here in Portland. I had an appointment with an orthopedic surgeon in Hillsboro. We started up Burnside Road which is near where we live and were met with this – rushing water and debris. Traffic was totally stopped in front of us. We quickly did a u-turn and went via another route. When we came home later, they had closed the access to Burnside from our area.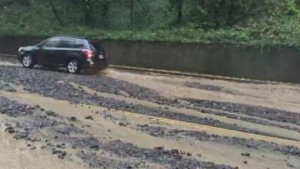 I found that I am definitely a candidate for knee joint replacement in my right leg. It was very interesting to go through my x-rays with him. The unfortunate thing is that there is a backlog of people waiting to get knee replacements so I have a 5 month wait. In the meantime, I got fitted for a brace which will hopefully relieve the bone on bone pain on the outside of my knee joint where I have the problem. I go to pick it up tomorrow. I hope it helps. It will surely add to my festive look for holiday events – not!
I feel so much better tonight just knowing that I am now on track for some relief.