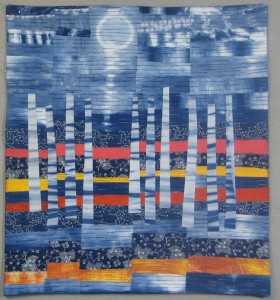 The good news is that I feel as if I am getting back into a creative groove and feeling more confident about what I am doing. I was really stymied and about how to do the aspens. I cut some paper pieces to try out some options. I got brave and started cutting from my shibori stash, using some linen, first. It just was not working. I got on the computer and googled aspens and just looked at photos of how aspens appear in the natural landscape. Very often, you just see a stand of them sort of in a row and I decided that was what I needed to do, but abstracted. After several trials, I am quite happy with this. I haven't stitched them yet. They are lightly fused. I ended up using a silk charmeuse shibori piece because there was more contrast in the markings. I was a little worried about the value change in this piece, but was pleasantly surprised when I changed it to black and white.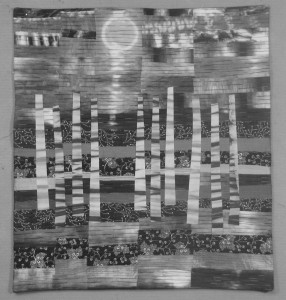 The other good news is that I saw my oncologist today for my annual visit. He says I am fine and do not need to come back unless I want to. He is such a fine man that I might go back just to visit with him. We always find lots to talk about.
M and M arrived after lunch to spend the day. We didn't do much. Miles watched Muppets in Space. Mia kept me company in my studio and played with Scooter. Tonight, we headed over to the Farmer's Market to shop and have dinner. They didn't see anything that appealed to them so we went to the never fail Stickers Asian restaurant down the street.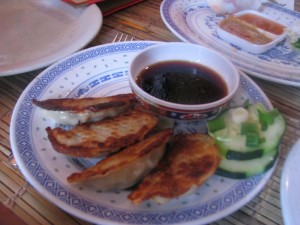 Here is Miles enjoying a sticker. Mia loved the new vinyl lime green and gold flecked upholstery on the booths!!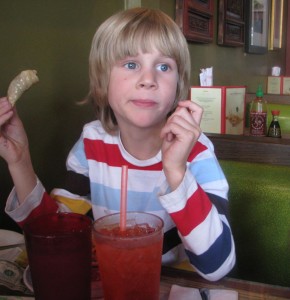 We walked back to the Farmer's Market to do some shopping and the kids enjoyed gourmet ice cream sandwiches.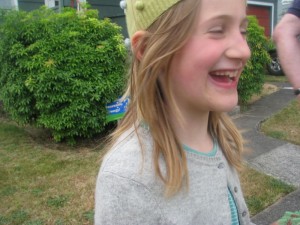 I call this photo Doing the man walk in tandem.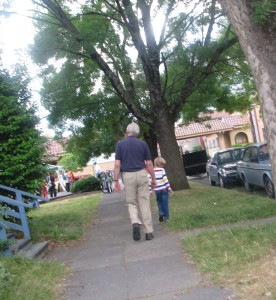 Mmmm! Brought home berries to eat and freeze.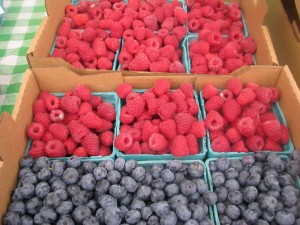 Tonight, I found the two munchkins staring with intense interest as they watched Mythbusters, one of their favorite shows.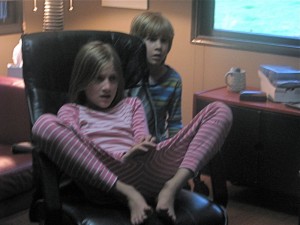 Tomorrow is a play day with STASH at Terry's house. I have my supplies all packed. We are going to do sun printing and maybe some monoprints. I will take my camera.