I finally had success with my foiling today. Jane Davila suggested Wonder Under fusible; this was seconded by Deborah Boschert. An e-mail from Jane Dunnewold suggested gel medium. Jane Davila said Misty Fuse was too light and you don't get good coverage.
Well, I didn't have any Wonder Under so I tried Misty Fuse, and I am happy with the result. I just wanted to get some illumination in those sections. Since I have the gold organza as the background, I didn't need complete coverage.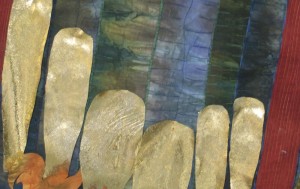 So, now I can get everything stitched down. I might just make it.
Tomorrow night, Mr C and I are going to a Bruce Springsteen concert, something we have always wanted to do. I am so looking forward to rocking out with The Boss!!
Now, to the winner of the magazine. A little back story is needed, here. It is going to an old friend and not a quilter. Forty-some years ago when I was a young wife and mother in Schenectady, NY, I had the good fortune to meet one of the most intelligent and wise women I have every known. Her name is Anita. We each had 3 kids, a boy and two girls, the same ages. We used to take each other's kids on week-ends so that we could have time away with our spouses. She was an incredible cook and put on fabulous dinner parties. I always loved spending New Year's eve with them.
We moved on to California because of Steve's job, but kept in touch. She follows my blog and periodically comments. I am really happy that she will be able to read about my quilting. So, Anita, are you in Florida, yet, or still in New York? Let me know!!