I have been partying  up a storm with the family, celebrating the marriage of these two, my son, Mark, and Jayme. They have not gotten married, yet. They have the rings, they have the commitment, but they are just going to go to city hall in San Francisco some day and do it. Jayme orchestrated a get-together of both sides of the family here in Portland.
On Thursday night, they put together a delightful meet and greet dessert party at the Sellwood Yoga Studio where Mark had done the landscaping for his friends who moved up here from SF. Here is my daughter, Steph and M & M sitting in the courtyard.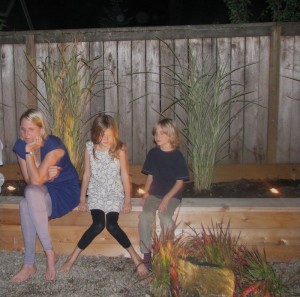 On Friday night, we had everyone at our home for a beautiful meal catered by Papa Haydn, a restaurant noted for their desserts.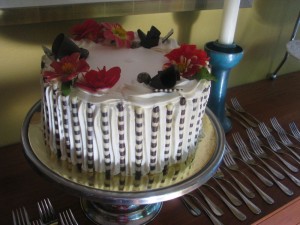 I had purchased lots of fall flowers  – sunflowers, dahlias and zinnias, which Lisa and Clay arranged in vases for all the tables.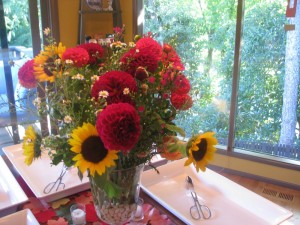 The food was fabulous and the service was impeccable. We received rave reviews from every one. We were able to arranged seating for all who came which required some furniture rearrangement. We like the new living room arrangement so much that we are going to keep it for awhile.
Saturday was the day for the picnic out on Sauvie Island at the Kruger Farms. We awoke to a steady rainfall, but the weather forecast called for sun by the afternoon. And we were not disappointed. What a great time we had. This was coordinated by Mark and Jayme. They bought the food, rented a huge BBQ, and thought of every detail for a fun time in the country. Some of Jayme's relatives cooked some great sides and Stephanie made killer cookies.
We took Scooter with us. It was his first long drive for an adventure. He had a great time. There was the cutest little dog who lives on the farm who kept running over to our site to play with Scoot. He looks like a cross between a chihuahua and a Jack Russel Terrier.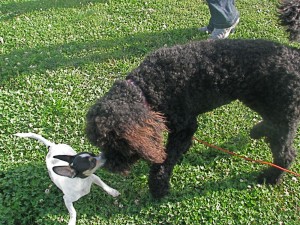 We were right next to the corn maze and at one point, Scooter ran off into the maze and it took some time to find him.
Here is a photo of everyone who was there, except the photographer.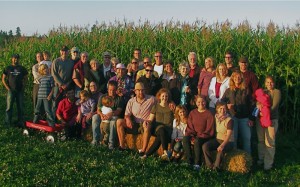 We took about 6 attempts to get a photo of our family. Here is one of the takes. It is almost impossible to get Miles to look at the camera, especially when his Uncle Mark is giving him the elbow!!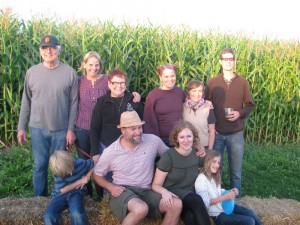 It was a wonderful 3 days. We loved Jayme's family. We loved having Steve's brother Mike and some of his family and David who came all the way from Florida. Right now, I am pretty exhausted. If you are interested in seeing all the photos that I took, they can be seen on this Flickr set, Mark and Jayme Celebration.
Here is some other stuff going on in my life. I was very excited to have Mystical Forest purchased on the first day of the SAQA auction for $750 by Teri Springer, who is becoming a patron since she owns two of my pieces.
I didn't get into Quilts=Art=Quilts this year. I am disappointed, but that frees the work to enter in another show.
I now have the correct diagnosis for my brother-in-law, Ray. He has myelodysplastic syndrome which prevents the making of white blood cells. The only treatment is a bone marrow transplant, and he is considered to old to get it. I am deeply pained for my sister and her children and grandchildren.
There is a lot of other stuff rattling around in my brain, but it will wait for another day.