Well, it was just a good Monday for me! I think that the sinus trouble I have had for 3 months is over!!!! I went back to aerobics today and had no problems. I was even able to balance on one foot – oh, yes, it is a sight to see.
When I got home there was a package for me. My new acquisition – Out of Africa -made by Rhonda Blasingame for the Quilt Art List Quilt Swap. About sixty of us made quilts for the swap. They were posted for us to see and we selected our top 5 quilts. I got Rhonda's. I really love it. She has used some wonderful fabrics and trims. There are wonderful wooden beads and beads that look like ivory. The binding is burlap that is fringed. Here is a pic and a closeup: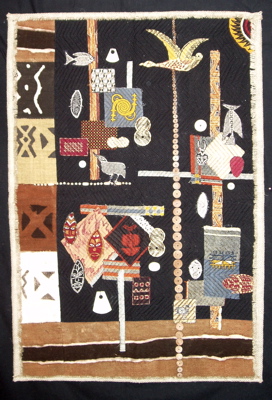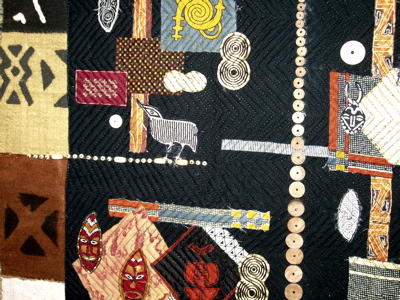 This afternoon I worked on the fiber Christmas Cards. Here you can see a pile waiting for the binding: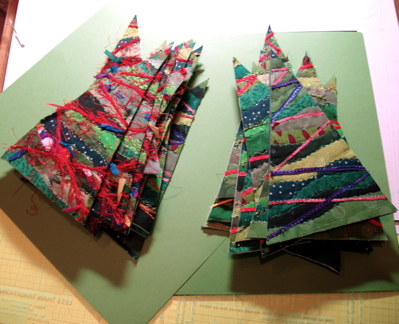 I also put all of my works in progress on the design wall so that I can start thinking about how to quilt them: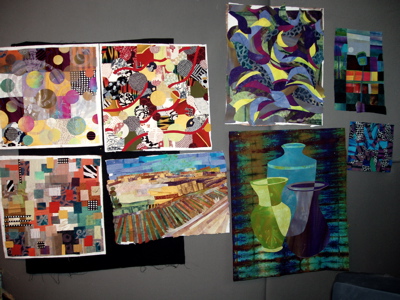 I also rounded up a rainbow of fabrics for doing a miniature prototype of the commission piece.
Tonight we went to the symphony. A nineteen year old young man from Sonoma County was the guest violin soloist. He did a Prokofiev piece which was sensational. Then the orchestra played Tchaikovsky's Symphony NO. 6 in B Minor – Pathetique. It was unbelievable to hear a small city orchestra play this well. We are truly blessed.
It is so good to have my health back and the energy to do every thing I want to do. Yeah!!
It is so good to have energy again.