I spent most of yesterday afternoon stuck in traffic. They closed the main road back to my house because of a multi-car accident. The other route home was clogged with traffic and was made slower by another accident. Arrrgh! Not how I meant to spend my afternoon. I had a 12:30 hair appointment then stopped to mail some packages. I hoped to be home by 2:30. It was 4:30 when I arrived home. I finally finished the Christmas tree cards and they got mailed today. Between church, a neighborhood party and a Christmas concert tonight, I didn't get much done. The color and composition exercise will have to wait until I get back from Portland and maybe after Christmas.
Yesterday was Mia's birthday. She is six. She had a sushi party with lots of Japanese decor and attire. You can see pictures at Steph's blog, here. Tomorrow we are flying up for a belated birthday celebration and an early Christmas. They are all going to North Carolina on Friday to visit the other grandparents.
My Christmas gift to Mia is art supplies. I wanted to put them in a nice container. So I got an idea. This is one of the vinyl bags that I have from attending Empty Spools seminars at Asilomar.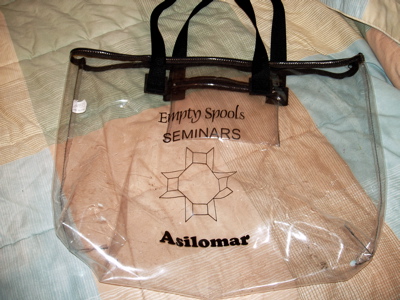 With the new Janome, I made a little label that says Mia Barnes Art Bag. I appliqued that to some sparkly, starry fabric that Mia loves. Then I appliqued that to the vinyl bag.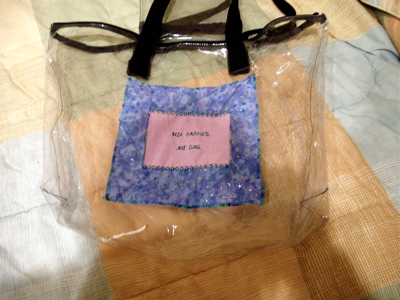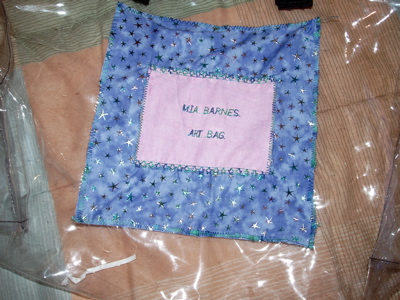 Here the art supplies: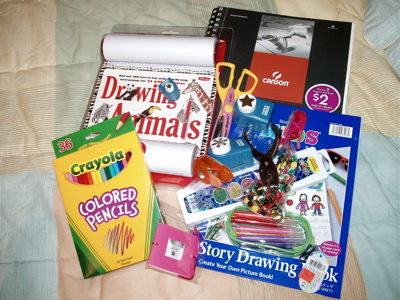 And here it is ready for Miss Mia!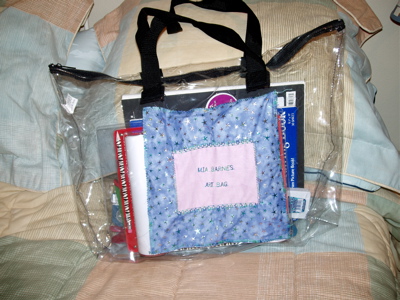 We have to get up at 5 am to leave for the airport at 6 am. I am so far behind on reading blogs. I'll try to check up on everyone when I get to Portland. I've packed gloves, boots and a warm hat cause it is cold up there!!