What goodies do you have to have at your home to make Christmas just right? At our house there are two things: Christmas Tree Coffee Cake and Chocolate Mint Brownies.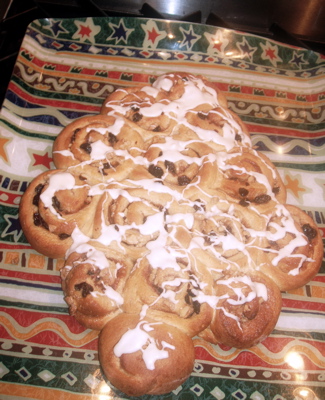 I used to teach bread making classes and I made and sold my "healthy" whole wheat coffee cakes at a folk art store in Los Gatos back in the 80's. This version uses whole wheat pastry flour and is filled with dried cranberries, sugar, butter and cinnamon.
The brownies have mint flavoring and green, mint flavored frosting with a chocolate glaze. I also made sweet potato pecan tarts and peppermint candy puffs because Lisa had a craving for something with crushed peppermint sticks!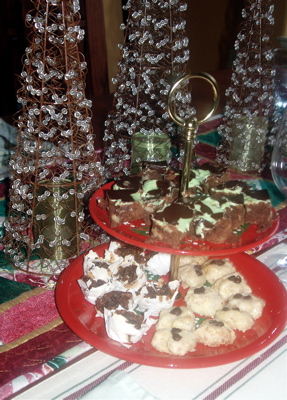 Lisa arrived yesterday and she is making her famous lasagna for supper tonight. Mark and girlfriend Jamie, who we have never met, are due to arrive soon. Tomorrow, we are having grilled tri-tip because it is so balmy here.
An update on Stephanie and family. She called from NC. The kids are doing fine, but she has pneumonia. they took her to the doctor, and she had a chest x-ray. I told her to stay in bed and let Jack and his family wait on her hand and foot!!!
MERRY CHRISTMAS, HAPPY HANUKKAH OR A CHEERY KWANZAA TO YOU AND YOURS!!