I have to report in about my weigh-in. Well, it was bound to happen, I didn't lose any weight this week, but I have determined that my clothes were at least a half pound heavier than last week. Is that obsessive? I am not deterred. My clothes are all getting too big, and I do not cringe when I look at my reflection.
Someone in upstate NY is my best friend today. Last week, I mailed a cd of jpegs of two quilts to the Quilt=Art=Quilt juried show. Today, I got an e-mail saying the cd was blank and could I resend it. Yikes!! I Fedexed it and am very relieved that I was given a reprieve. I checked it on Mr C's pc just to make sure it was working on both platforms. Cathy Kleeman has an interesting post today about entering shows. I share most of her thoughts and problems with the whole issue of entering juried shows. First of all, why do they all want entries in the fall? Then, there is the cost — is it worth it? And staying on top of which quilt is entered in which show and how long they will be gone, etc.
I just finished doing my inventory and tag information for my stuff for the Japanese Garden Show. That is a big relief. I only have a bit more to do on the Winter Bamboo Fence. Last night, I attached two pieces to bamboo hanging rods.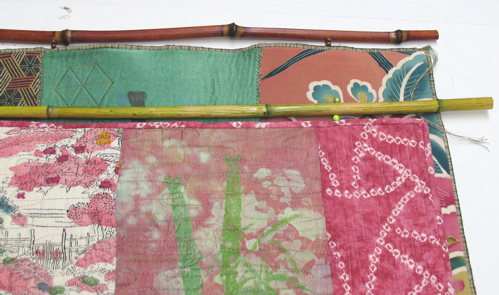 Here is a close-up of the attachment, done with beading thread and beads. I can not take credit for this, I stole it from Terry. You make a small hole in the bamboo and thread the thread through it and the beads.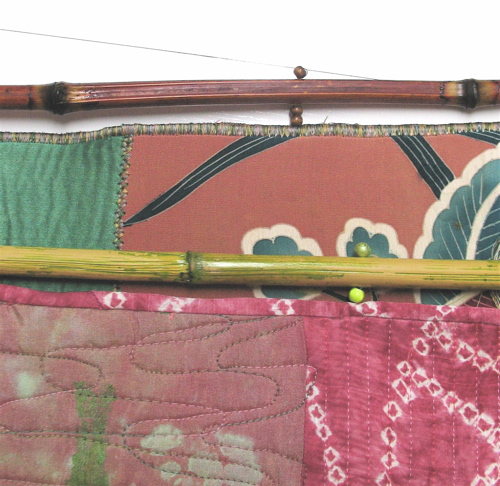 Tomorrow is a cleanup the studio morning and an afternoon with M & M. It was in the high 90's here today so if it is that hot tomorrow, we might just turn on the hose and wash my car.