We had a great family dinner on the deck on Friday night. We had chicken pesto sausages, corn on the cob, Sesame ginger slaw, roasted rosemary potatoes, tomato-basil-mozzarella salad and for everyone else, ice cream and raspberries. M & M spent the night so that Steph and Jack could go out with Mark and Jayme.
After a hearty breakfast of pancakes and bacon, Mark and Jayme packed up to head back to California yesterday morning. Here they are in front of a nice clean car (compliments of M & M, well sort of).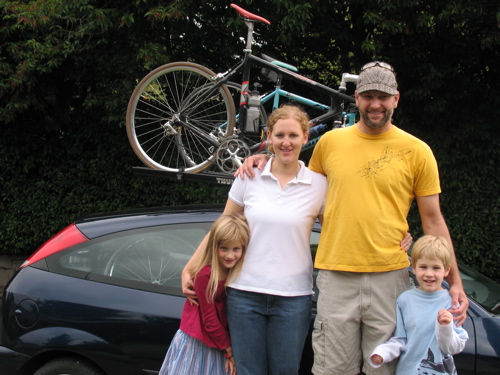 Look at the dewy grass in our landscaping – so pretty.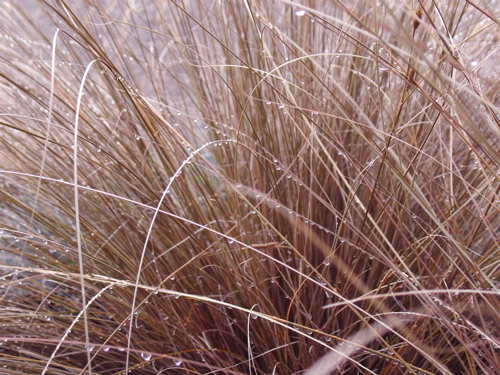 After they left, Mia and I got to work in my studio. She started stitching the quilt that we are making for her American Girl doll, Kirsten. Notice the hand embroidered square with Kirsten's name.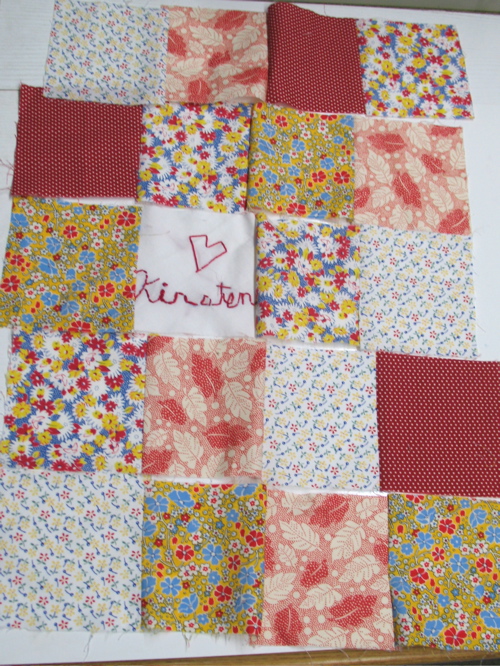 After they went home, I got some work done on my Japanese Garden pieces. Mr C and I went to the 5:30 showing of Bourne Ultimatum! It was a white knuckle experience. Then, after dinner, we watched the very charming Breakfast on Pluto, an Irish film about a transvestite who discovers that his father is the parish priest. I was on sensory overload and couldn't get to sleep.
Today, I worked some more to finish the Japanese Garden pieces. I bought a couple of matted frames at IKEA last week, and I thought I would make a couple of small pieces for them. Here is one possibility. It is not stitched, just a possible use of some of my shibori pieces.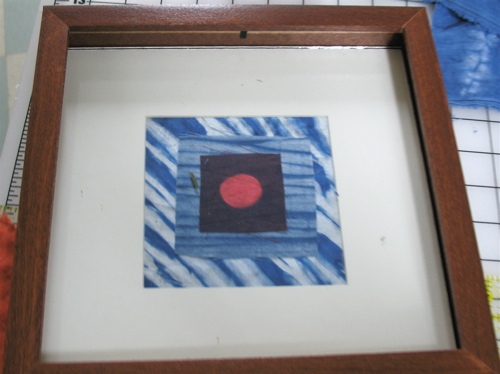 Tonight, I splurged. I made pizza margharita with Trader Joe's whole wheat pizza dough, Roma tomatoes, basil and fresh mozzarella. It was soooo good.