I don't know where the past week has gone. When I came home from OCAC last Sunday, I just emptied out my carry all on the wet studio floor because my tools were wet and I did not want them mildewing in case I did not get to them right away. And, of course, I didn't. After a couple of days with M & M, I finally hit the studio with a surge of organizing energy. Yesterday, I reorganized and cleaned up my little kitchenette, my version of a wet studio. I sorted my art supplies that need washing into the baskets that I purchased last week. I placed them on the counter over the sink area so that I can just throw them in as I wash them.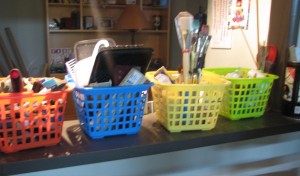 Today, I spiffed up the studio. The ubiquitous fabric which had been pulled to audition, fabric from last week's class, etc. I have a couple of days to get some projects done or started. I have a couple of looming deadlines. On Wednesday, I start my second class at OCAC. This time, I am taking a five day Screen Printing Intensive. Woo Hoo! I have been wanting to do deconstructed screen printing, and it is on the schedule.
Today, I also put my Collage Mania goodies in frames. I am going to rearrange some art in the living room so that I can hang these there. I think they all look fabulous together.
From left to right — Liz Berg, Karen Stiehl Osborn and Jette Clover.