I awoke early this morning and enjoyed my last breakfast at the Coupe de Vila. I had to be at the ferry 45 minutes before departure — 8 am. I listened to the radio and drank my coffee. Thirty minutes later, we arrived in Port Townsend.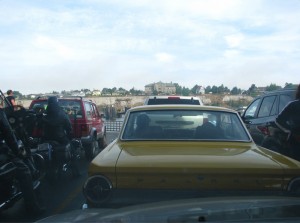 The drive along the Hood Canal was beautiful, but slow, with lots of construction stops. I couldn't take any photos so you will just have to believe me. I made a couple of "rest" stops and arrived home a little before 2 pm. I ate pretzels and cookies and drank some water in the car so that I could get home sooner.
Home is still in chaotic mode. Mr C sort of organized stuff for better traffic flow. Half of the bedroom furniture is in the living room. The bedroom floor looks fabulous. We can move stuff back in tomorrow afternoon.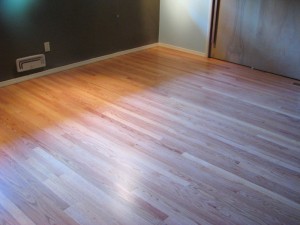 While the floor was getting refinished, the tile guys were climbing in the bathroom window so that they could keep on working. The grout was finished this morning, before I got home. It is beautiful. I think that the work should be finished next week. The cabinets have been completed and all of the fixtures are here. We need to select some lighting fixtures.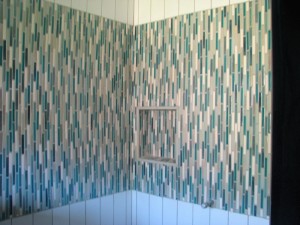 The floor looks great with the darker grout.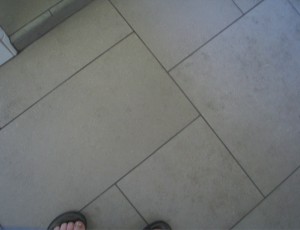 I forgot to mention the nice quilt show that we saw on the run while in Coupeville. Janet Steadman, who lives on Whidbey Island, and reads my blog, sent me an e-mail to say that her critique group had a show at the Penn Cove Pottery. Since we had a tight schedule, Judy and I grabbed our lunch and drove out to see the show during our lunch hour. The quilts were displayed with gorgeous pottery that echoed the colors and lines of the quilts. It was a beautiful sight. Janet had only two small quilts in the show, but she is having a solo show there in the near future. I should have taken my camera.
Mr C and I went out for Indian food and now I am ready to crash.Ho