I forgot to mention that my Five Fancy Fish was juried into PIQF as part of the New Quilts of Northern California exhibit. It was too small to enter in the PIQF part. But, it gets to go anyway!!
Yesterday I was taking photos at the Fall Festival at church and my former neighbor came up to give me a big hug. The camera was on and hanging over my shoulder, not around my neck, (YIKES) and it fell on the concrete right on the lens. It was bent beyond repairing. I can't live without my digital camera!! I went to Circuit City to get another Olympus. I was about to get a 5.1 mega pixel camera for around $269 when the clerk pointed out to me that it takes double a batteries. I said now way. I love my lithium rechargeable batteries. He then remembered that there was a store display of my exact 5.0 megapixel camera in the case. And since it was an older model and had no box, it was on sale for $160. Woohoo!! I didn't have to learn anything new and I could use my discs and batteries from the previous model. We were very happy about this.
Look at these beautiful photos of kids that I took yesterday:
I have photoshopped each of them so that they look like this now: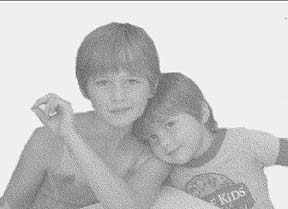 I will be using them in a quilt to be unveiled later. I am going to print the images on fabric. So stay tuned for what happens next!!