Today, my daughter Stephanie, who is the mother to: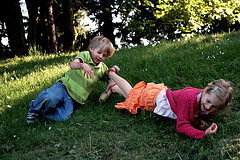 and the maker of wonderful softies like these: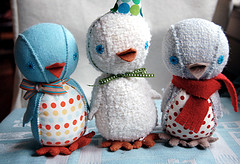 is the Featured Blogger on Typepad today. She is the one who got Lisa and I involved in blogging last year.
I have had a bad computer karma since Friday. I started my Mac G4 on Friday morning and all I saw was the blinking file with a question mark – oh oh! At least it wasn't the sad face. I got on the laptop and found KGinger Consulting – everything Macintosh and Kevin came over that afternoon. He was able to bring up my hard drive on his laptop. We burned a dvd of necessary stuff, then he tried to repair the disk and drat – no could do – too badly damaged. So we erased it and reinstalled the operating system. I have since been reinstalling all of my software and updating everything – very time consuming.
I have also been trying to walk 10,000 steps a day, and if you think this is easy for a 67 year old – get out there and try it for yourself – it is about 5 miles. But, no pain, no gain. So last night, after a day with the grand kids and trying to get in 10,000 steps and sandwiching the worship quilt, I was quite loopy and gave my i-book a half a glass of sauvignon blanc. I quickly wiped it off, turned it upside down, did what I could, and hoped for the best. It was working fine last night, but when I booted it up this morning, the display was not working. So off to the Mac store tomorrow. It is fairly new and I have Apple Care, so I am hoping it will get over the hangover from the wine.
Yesterday, I fused the top of the worship quilt to the batting. I ordered a spray fuse on-line. I sprayed the batting and then ironed the top to it. It worked. Because I want to do the pillowcase finish, I needed to have the top be very stable. I have also cut the back to size and am ready to stitch them together and turn it – ready for machine quilting. I am also fussy cutting crosses in all the colors for the final layer. I will post pictures tomorrow. Gotta go get busy. Oh, by the way, I was able to get in over 9,000 steps yesterday!!