I have spent a lot of time today cutting crosses. I did manage to get in 10,800 steps. I also covered one of my design walls with gray felt. The other will be covered with black. Steph and M & M came over for a short visit and then we all went to the Westmoreland Farmer's market.
I want to thank all of you who joined my silliness yesterday and posted a comment – especially those who have not commented before, It is always nice to meet a new friend in cyberspace.
I am not ready to put the quilt on the design wall just yet. I have to trim some threads and give it a good steam pressing. However, tonight I just had to place some on the crosses to see if my idea is going to work. My plan is to do a wash of the crosses across the quilt, placing the colors over their complements with the same mix of colors that are in the background. (Did that make sense?) Here is a photo.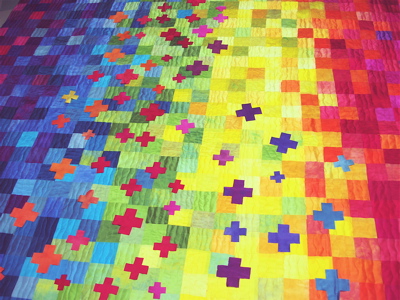 Tomorrow, I have to compare my threads on hand with the colors of the crosses and run to the store to pick up the colors that I need to satin stitch the crosses. That will be a huge task – the satin stitching not the shopping!