Today was a stellar day for all sorts of reasons.
I slept in, getting ready for the end of daylight savings time.
It was a spectacularly gorgeous sunny fall day.
I made some great progress on the green quilt.
Mr C and I went on an art date.
Maggie and I took a nice late afternoon walk in the Rhodie Garden (probably our last one until spring).
Here is a sneak peak at the quilt I am doing for an invitational, curated by Larkin Van Horn. The theme is "It's Good to be Green." I have known for a year that I need to have this done my December 1. I was originally going to make a piece out of recycled green fabric — sort of a double entendre. Instead, I am making a composition from my indigo fabrics. One of the pieces I did was a green hand-dye. Also, the process of indigo requires the dye to be green before it turns blue with oxidation — so it is "good to be green." Here is a sneak peak. This is a small section. The final piece has to measure 18″ X 45″.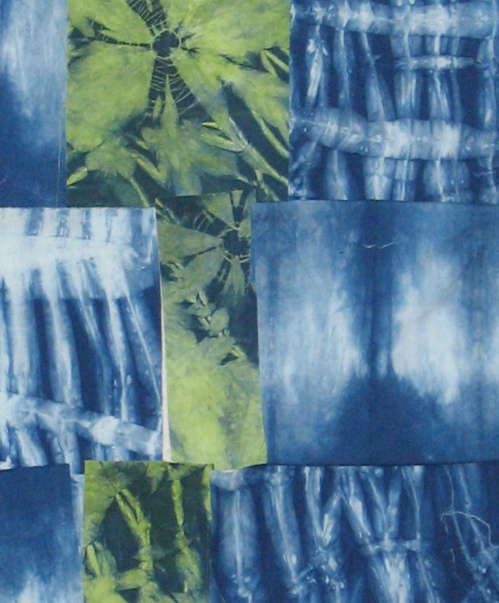 This afternoon, Mr C and I went to see the Chuck Close exhibit at the Portland Art Museum. I really enjoyed the show. I watched the film of how he does his painted works.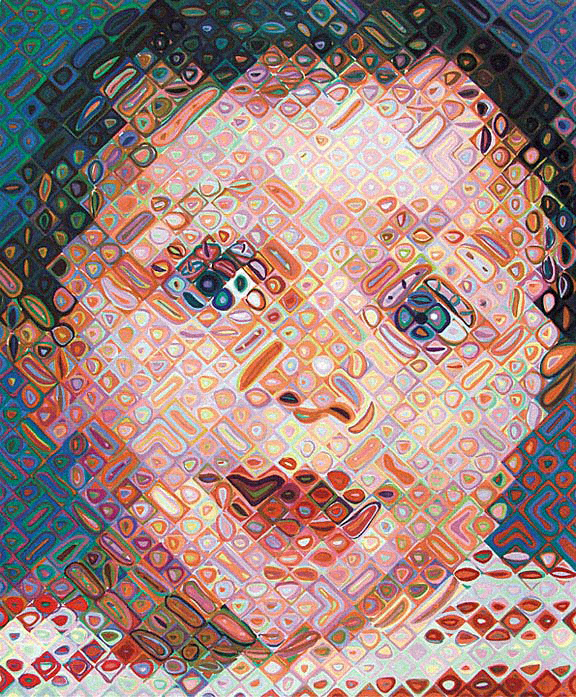 Much of the show were prints of the portraits that he does. I loved seeing the plates and woodblocks displayed with the piece of art that they produced. I took a print making class once which makes it even more exciting to see his work. I particularly loved the portraits made from gradations of gray paper pulp.
I could imagine how you could create these images using fabric.
I made a few purchases in the gift shop where they had lots of things with a Chuck Close grid.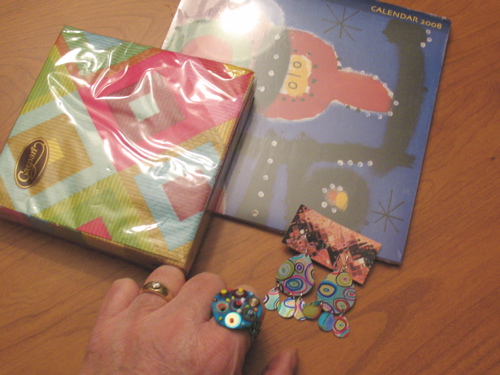 Sorry about the quality of this photo, but I took it after dark with a flash. I have cocktail napkins with a grid design, Chuck Close earrings and a cool ring with Chuck Close circles. I also got myself a Miro '08 calendar.
Hope you all had a good day, too, and remembered to set your clocks back so you can get a well-deserved extra hour of sleep.