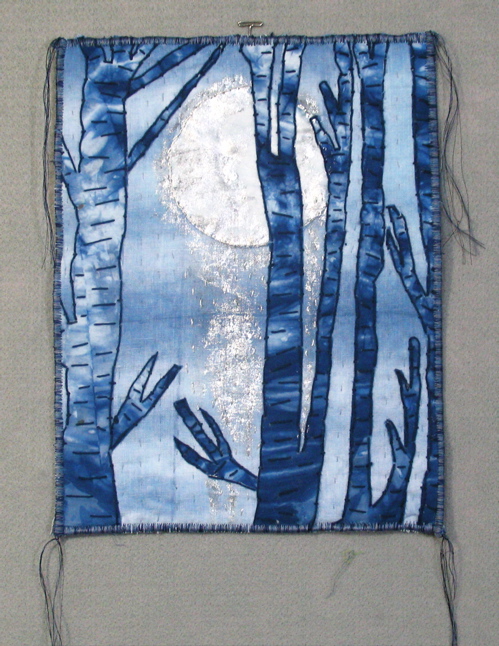 I finished Indigo Aspens for the High Fiber Diet Show next month. I did all hand stitching. Here is a close-up: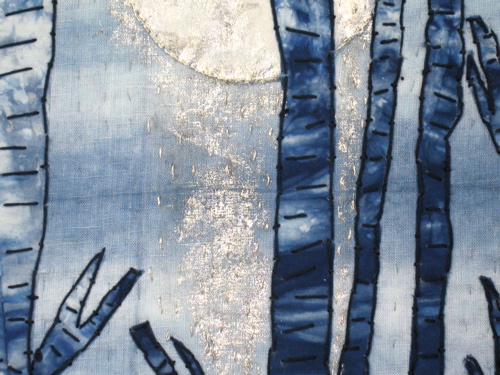 I have become addicted to making marks on fabric with a needle and thread. I love how I can define a line or create a mood with little stitches.
I was one of the first 3 commenter's on Jen's Blog and will be the beneficiary of a hand made gift in the Pay It Forward promise. This is the first time that I have managed to jump in early enough.
Now, I will send a handmade gift to the first 3 people who leave a comment on my blog requesting to join this PIF exchange. I don't know what that gift will be yet and you may not receive it tomorrow or next week, but you will receive it within 365 days, that is my promise! The only thing you have to do in return is pay it forward by making the same promise on your blog.
Tomorrow, Ginger of Gingerfied is coming by to play in the studio with me. I will try to remember to take some photos. In fact, I want to take a new photo of her for her blog. She is much younger than her photo shows.