Buoyed by this news, I have been having a wonderful day.
American evolutionary-psych researchers have produced eye catching research suggesting that women whose hips are significantly bigger than their waists are more intelligent, and tend to produce more intelligent babies. They believe that this might explain why men tend to be attracted to women with this type of physique, apparently theorising that what men really really want is women (and children) likely to be cleverer than themselves.
Who knew? I thought my kids got their brains from their father.
Yesterday, was a lost day. It was a really dark and stormy day. the wind was blowing mightily. Trees and branches were falling all around us. And the power went out. It is so spooky quiet when the power goes off. No background humming of the computers and the furnace. Mr C and I did our class homework next to the window with a fire blazing in the fireplace.
Today was glorious — bright and sunny —, and after a nice long walk with Mr C and Maggie, I got quite a bit done in the studio.
I have to get at least two journal size quilts done for a High Fiber Diet show next month, titled Small Treasures. And I am still working on the Good to Be Green quilt which I can not show you.
I have had this idea percolating in my brain — that is to use indigo shibori fabric to make aspens in a night time scene. So here is my go at it for one of my Small Treasure pieces.
This is the general layout.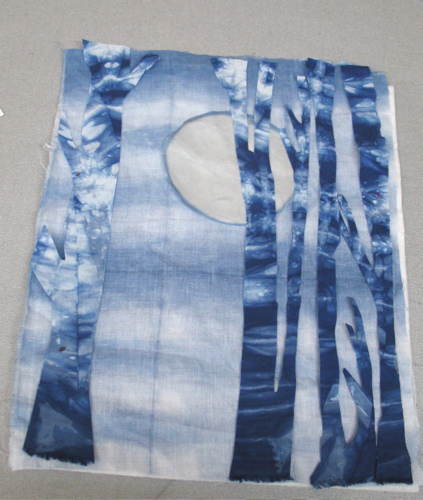 I wanted to put some silver foil on the moon. First, I applied some glue with a small brush, very lightly.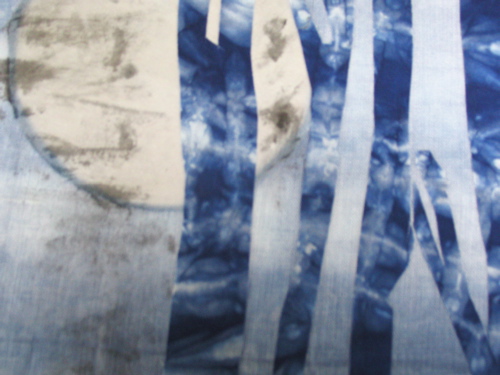 I got a lot more foil adhering than I had planned for so I just went with it.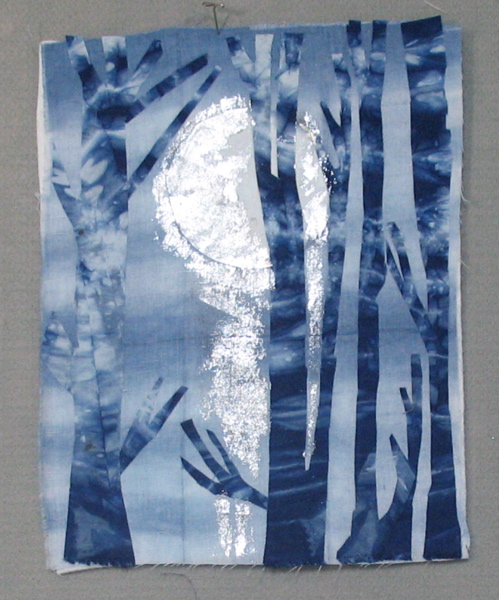 I decided to do hand stitching with Perle cotton. I did some silver stitching in the foiled moonlight and the trees are stitched with a dark blue.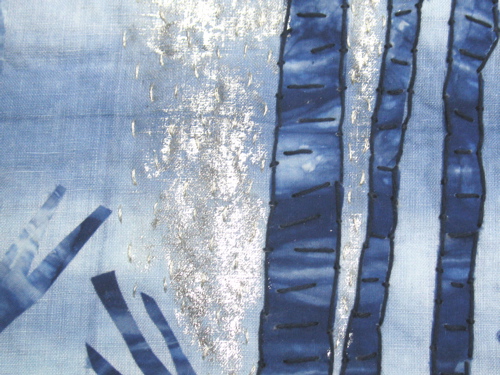 I really enjoy doing the Perle cotton embellishing.
Here is some stitching I did on the Good to Be Green piece. I have not clipped the threads because I might want to leave some dangling threads.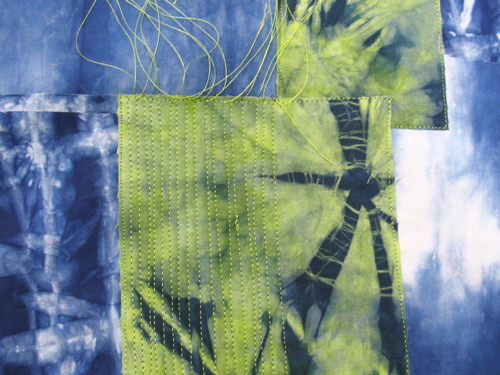 The sweet Deborah of Deborah's Journal has posted some photos of my work hanging at the Houston show. Click on the link if you would like to take a look.
Hope you are all busy and creating, too.