One of my high school classmates and her husband are celebrating  their 5oth wedding anniversary. When I got the invitation a few months ago, I told their daughter I wanted to make something for them using some photos. Well, of course, it is next week-end and I am just finishing it. I don't think she reads my blog so I thought I would share what I did.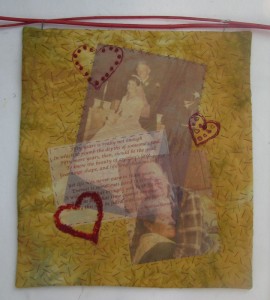 The bamboo is not attached yet. I used a gold background (golden anniversary) which has strokes of gold paint. This is a fabric done by Liz Berg which I purchased ages ago. I used their wedding photo and an absolutely darling photo that was taken of them last November. I found a poem about being together for 5 years. They are all printed on organza and fused to the background. I stamped  hearts and embellished them with red beads. I did no machine stitching. I had a beautiful hand-dyed variegated perle cotton from Elin Noble which I used for a seed stitch on the background.
Here is a detail: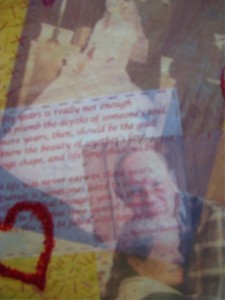 I am very happy with how this turned out. I will stitch the bamboo hanger tomorrow and get it in the mail on Monday – whew!!
Here is the poem:
Fifty years is really not enough
In which to plumb the depths of someone's soul.
Fifty more years, then, should be the goal:
To know the beauty of another's love,
Yearnings shape, and life-long shadows buff.

Yet life was never easy in those years.
Everest is sometimes hard to climb.
A will to love has brought you to this time,
Rich in joys that time cannot remove.
So may this day be filled with happy tears!

— Nicholas Gordon
We are getting close to the deadline for the first phase of registration for the SDA conference. After April 1, it costs more to attend. So I am getting a last minute rush. I managed to get caught up with all of that today.
My fabric for the shibori class arrived. I could really see and feel the difference between the regular pfd fabric and the organic cotton. The organic is very lucious.
Terry and I had nice art date and lunch on Friday. I was blown away by the amount of materials and work that has gone into the installation by Mandy Greer. Do click on the link and take a look at what she does. Just think of what her studio and storage challenges must be.
Doing this little art quilt for my friend has warmed me up and I am ready to get back to work.