Want to know what I have been doing for the last couple of days? Click here. You can see all of the fabulous fiber gallery shows that will be going on in the Kansas City area during the Surface Design conference. From that page you can click for each show and see more images. Really cool stuff!!
Today was the 40th birthday party for my guild, which until today was called the Columbia Stitchery Guild and is now the Columbia Fiberarts Guild. We are trying to move into the future. There are not that many embroiderers left in the guild.
Here is the beautiful cake that was served following a delicious lunch.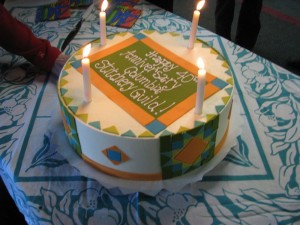 Many of the past presidents were our guests. They brought samples of the work that they do. Here are some pics of my faves.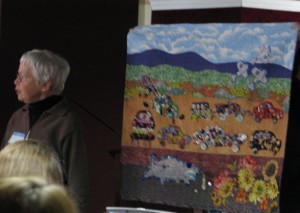 This quilt has tons of buttons.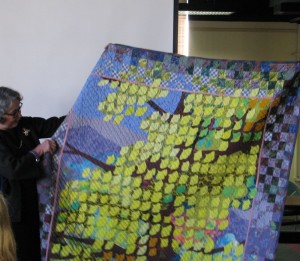 This was a beautiful ginkgo leaf quilt.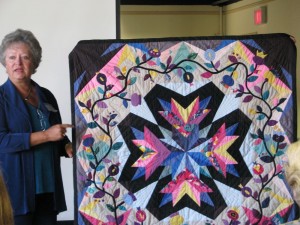 There, I promised you quilty stuff. I really enjoyed hearing these women talk about their tenures as president of the guild.
Tomorrow, STASH is meeting. We are going to try to become more productive this year — do some workshops and such.