The Fifth and Final Reverse Auction featuring my artwork, Noshi Ribbons,
opens today at 10 a.m. CST. www.virginiaspiegel.com/ReverseAuctionArtwork2009.html 100% of the proceeds is donated directly to the American Cancer Society through Fiberart For A Cause.  The minimum donation drops each day; wait too long and my artwork might be gone!
What is Gold Donor Day?
Artwork is available for a premium donation one day before the regular Reverse Auction opens.
This piece is donated by Rayna Gillman. I would love to own this.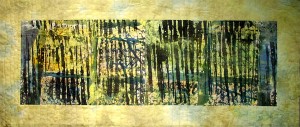 I hope you will stop by the auction and buy a beautiful piece of art to support a very important cause — The American Cancer Society.