I had a great night's sleep. The Scooter dog slept until dawn. Such a good boy. I did a mad dash through the studio to straighten up before I picked up Sue Reno out at the airport. Terry came by and we pile in her car and headed out on an adventurous ride through the back roads of Oregon. We kept making wrong turns, but always ended up where we needed to be. Kind of like making an art quilt!!
Here is a photo of a glimpse of Karen Miller's show. She cuts inticate stencils on mulberry paper and makes Katazome piece and other beautiful Japanese style work.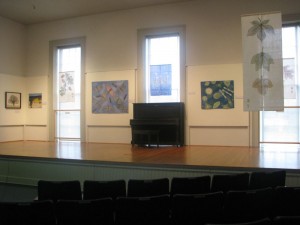 Here a couple of photos of Sue and Terry.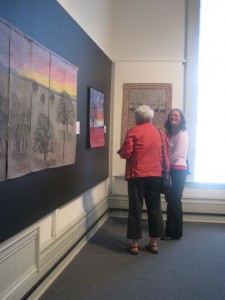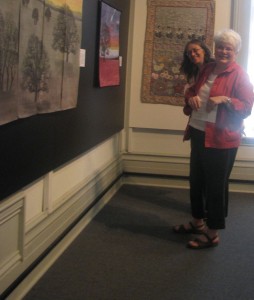 I didn't do a very good job of using the camera today.
I got an interesting e-mail today.
I am writing to let you know that one of your photos with a Creative Commons license has been short-listed for inclusion in the seventh edition of our Schmap San Francisco Guide, to be published mid-June 2009.
The photo in question is a photo that I took in February and is posted on my Flickr account. It is this one taken in the butterfly exhibit at the Academy of Sciences Museum in Golden Gate Park.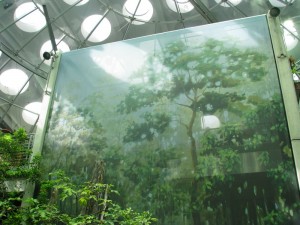 I am pretty tickled to have a photo selected for something like this. I don't get any payment, just credit because it is a free publication. Works for me. Of course, I only made the short list.
Sue brought me a wonderful piece of her art which I will share tomorrow if I have time. It is F & P time around here — finish and pack.