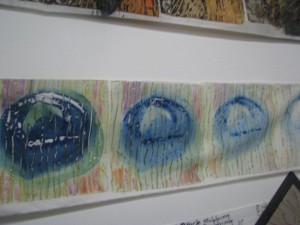 This morning, we heard a lecture on the amazing textile life of Vicoria Rivers from UC Davis. She has had such a full and interesting life as a textile artist.
The rest of the day was filled with demos. First up was Kerr Grabowski's demo of making water soluble elements permanent of fabric. She used charcoal, Caron d'arche, and other non-wax materials. The image is made permanent by screening a layer of textile extender or gel medium over the print. Above is  print made with such materials. And here is the always entertaining, Kerr.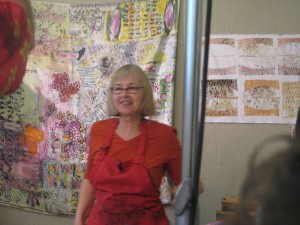 The next demo was encaustic with Daniela Woolfe. I love, love encaustic paintings and I would love to use this medium. I think I can try it out without investing to much in equipment.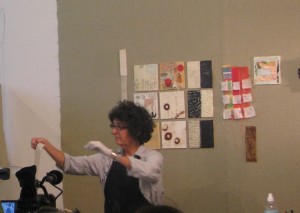 After lunch, I attended another Kerr demo. This time she did deconstructed screen printing, That was a ton of fun. I have every thing I need to do this.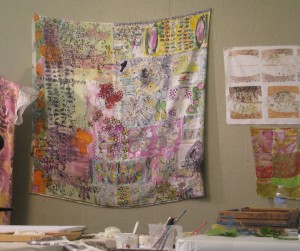 After a bit of a nap, I got dressed up to attend the juried wearable art fashion show at the Nelson Atkins Museum of Art. ShaSha Higby of CA, creates these elaborate costumes and does a wonderful performance with puppets. She start the evening festivities.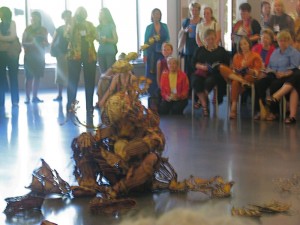 Then a plethora of wearable art paraded by.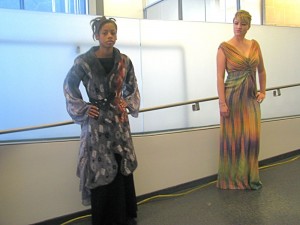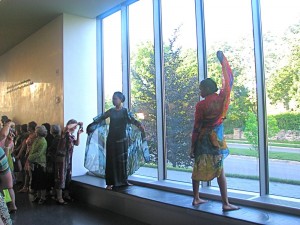 You can see more photos of the fashion show on my Flickr Site, here.
We finished off the evening at a local KC BBQ restaurant.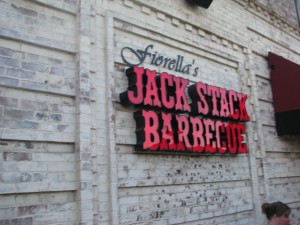 I could hardly make a dentin this sampler plate, but I enjoyed trying it 3 ways.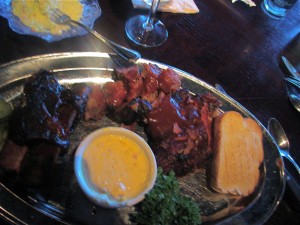 I am really tired so G'night.