Here is the missing photo of my mini paper assemblages: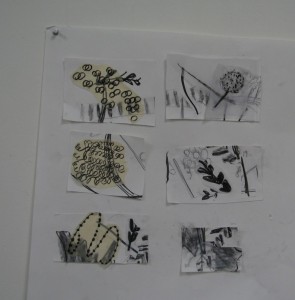 Here is the adorable Alice demonstrating for us.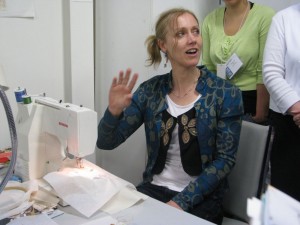 My only problem with my workshop is the cramped space and the lack of sewing machines in good working order. As an SDA employeed (even though I did not get a discount), I want others to have a chance at getting their work done so I often find myself machineless or footless, as I was this morning. Someone absconded with the regular foot for the machine I was using. So, I was off to the embellisher.
Here is the side on which I laid out the yarns.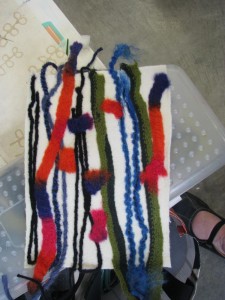 Here is the other side with beautiful marks and lines that almost look as if they were drawn with a crayon.
I cut up some of my "Bits" (Alice's term) and did this stitched collage.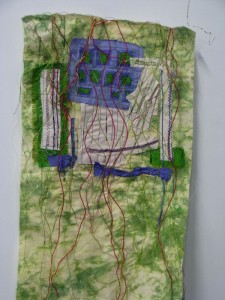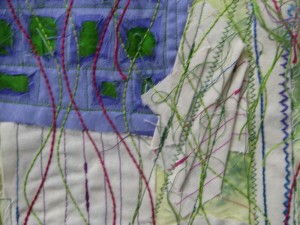 Did you know that I love, love dangling threads?
I had a free motion foot on a Bernina for a bit so I did this bobbin work piece on a piece of scrim. I first did lots of stitching in two different greens with a yellow on top and a loose tension. I then wound a chartreuse thick embroidery floss on the bobbin and did some free motion swirls. Next, I did red circles with red heavy weight thread. This is all done with a hoop on the reverse side so you are quite surprised when you see the end result.
This is the top side as I was stitching, but the back side of the piece.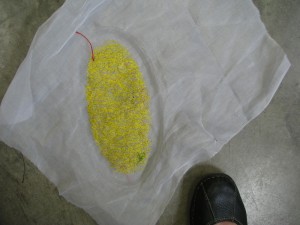 Here is the underside with the bobbin thread which is the actual top.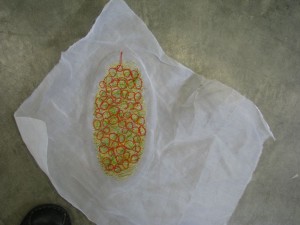 We did a show and tell of our work this afternoon. One woman blew me away with her work – Pam Sullivan. Her work is all about water. This is her folded organza piece of the Kansas river – detail first and the class holding it, second.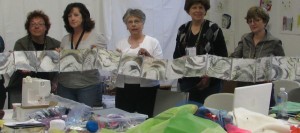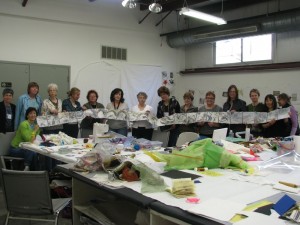 The classroom sort of looks like my studio at home!!
I did one other piece today that I did not photograph. I'm not sure I know where it is!!
That's all folks! I need to get some sleep. Big day tomorrow – last day of class and then I have all the conference attendees showing up to register.