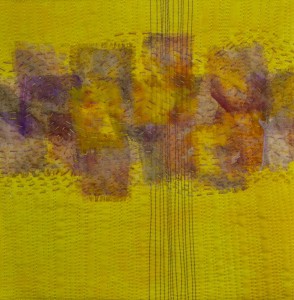 This is the piece that I did for the SAQA traveling trunk shown, also known as "This is a Quilt." This is  small piece that is matted so that only an 8 inch square is visible. The pieces are put in different groups and travel the country to be ogled by other SAQA members. We got to see group G at High Fiber Diet meeting last week. They are like little gems. This year, they can all be seen on the SAQA site, along with the schedule for their travel. You can see them HERE.
The SAQA auction quilts are also available for viewing. This year, we were invited to curate a grouping of quilts around a theme. I did a group with architectural details. You can see them HERE.
The deck is pretty much finished — just a few details. Once we move the furniture back, I will take a photo. Today, we went shopping for a new natural gas grill as we had a gas line installed in the breezeway where we do our barbecuing. We didn't make a purchase yet, but have narrowed it down. I for sure want a rotisserie.
We were very tired last night and went to bed early. At midnight, the alarm went off and scared the heck out of us. The house was locked up tight. We don't know what set it off. We shut it off early enough that the police did not have to come which was a relief. Then, I couldn't get back to sleep, of course. I kept thinking of all the reasons why the thing went off, but of course, we just don't know. I am trying to let go of the burglary post trauma, but things keep happening that set me off.