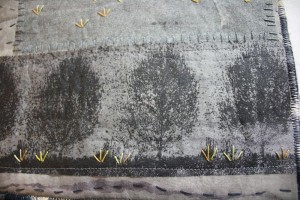 Here is a sneak peek at my gray Twelve x Twelve piece. I have some finishing touches to put on it and then get it photographed for the reveal on Tuesday.
Other than relabeling two quilts and packing them up and sending them off to SAQA and Art Quilts Lowell, I haven't done much in my studio.
The construction of the deck is taking over our lives. I spend most of my time providing support to the Mr C and Mark. This is what one side of my studio looks like.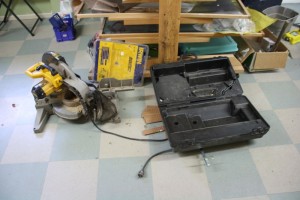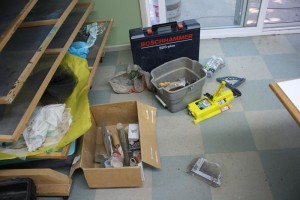 This is the view out my sliding glass doors of the studio.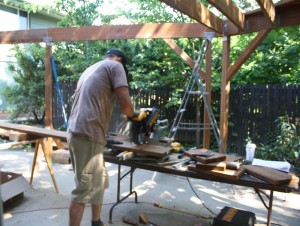 I love this view.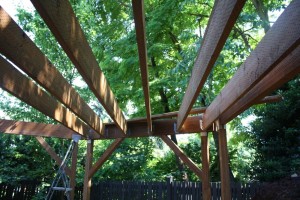 Here is the view from the dining room which has sliders exiting to the deck.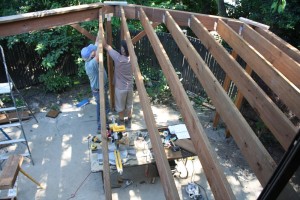 And here is the long view of the deck. There are some sunspots on the photo. It is a gorgeous day.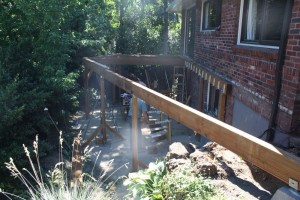 The decking material is ipe, which is a Brazilian hardwood. They delivered it on Thursday, but did not have oil in stock. The wood has to be oiled before it is installed. I did an internet search and found a suitable product and picked it up. I will probably get involved in oiling the wood at some point.
Look what I harvested from my raspberry patch today – yum, yum!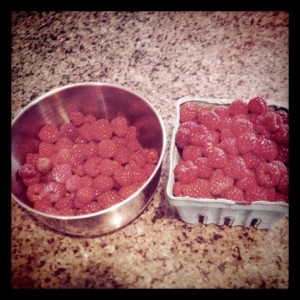 Lisa, Clay and Wilfredo arrived on Thursday. Scooter wants to play with Wilfredo, but he is a bit too large and exuberant for Wilfredo.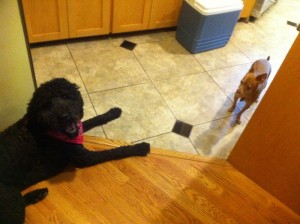 I had some quality time with M & M while Steph had some appointments. We had a nice walk in the Rhodie garden.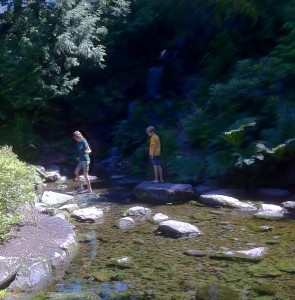 Tonight, Steph is making dinner for her siblings so that Mr C and I can have a quiet evening together. I can just imagine the conversation about how to deal with us old fogies!!
Well, that is all the news from here for now. I will have a nice rendezvous on Monday, but will share that later. Hope you are having a great week-end.