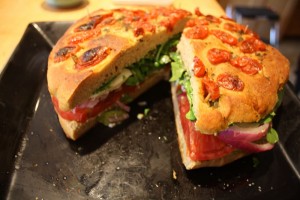 This is a Focaccia Sandwich that I prepared for STASH, today. The filling is pesto mayo, tomatoes, red onion, arugula and fresh mozzarella. I made the Focaccia di Patate that I made yesterday. It has yukon gold potato in it and cherry tomatoes on top.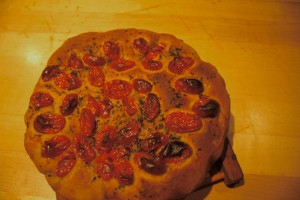 This is Scooter after I found him checking it out and hoping for some bites.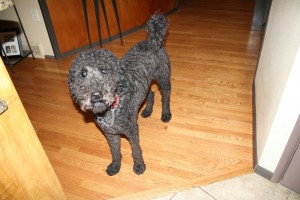 I served it with chilled melon soup and brownie with raspberry coulis and vanilla ice cream. The raspberries were picked from my garden yesterday.
Last night I went to High Fiber Diet. We selected the theme for our 2012 show – Elements: Air, Earth, Fire, Water.  I think I can work with that – lots of ideas. Our current show opens the first week of August in Oregon City:
NW Vibes, a new fiber art show by High Fiber Diet, opens with an Artist Reception on August 5th   from 5-8 pm at the Singer Hill Café, 623 7th St, Oregon City, OR.  Musical entertainment by "The Sale" will be from 6 to 8 pm.  Singer Hill Café's Fundraiser Friday will donate 25% of food and beverage purchases at the Cafe that evening to the High Fiber Diet group. The show runs from August 3-31, 2011.
If you live in the Portland area, I hope you will come by and enjoy the evening with us.
Here are some photos I took at m beloved Rhodie Garden today on my walk with Mr Scooter.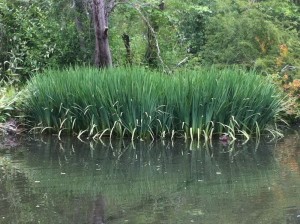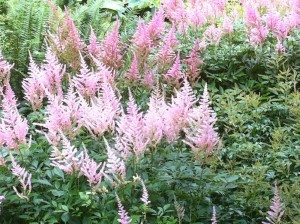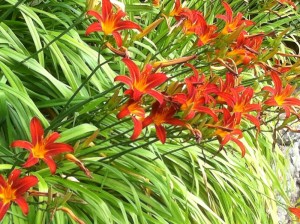 And, I even saw a Blue Heron.