Winter in the Northwest is gray. So, when Kirsty issued the Twelve X Twelve color challenge of gray — my mind went there. I had some photos that I had taken of my son and his wife at the Oregon Garden in winter.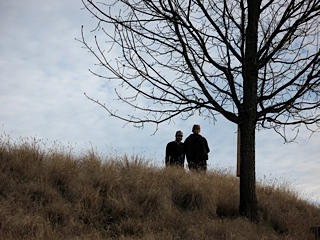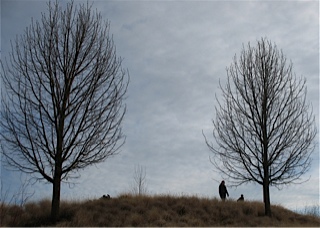 I love the shape of the bare trees and the bleak landscape with the simple golden grasses. I turned the photos into sketches in Photoshop. The single tree became a themofax screen of a row of trees.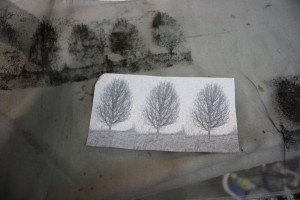 I first printed the larger photo on Jacquard's Extravorganza, but the gray I got was not working. I was using a beautiful gray organza shibori for the background which I ended up painting a darker gray.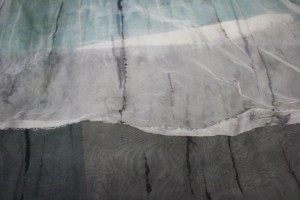 I used some of that with a full page self stick label to run it through the printer. I loved the color and the shibori lines added some interest to the photo. I printed the third photo as a smaller version to help balance the composition and to add some interest.
I did some simple running stiches with variegated perle cotton, and added some grasses in green and gold as a nod to the grasses in the original photos.
Here is a detail shot: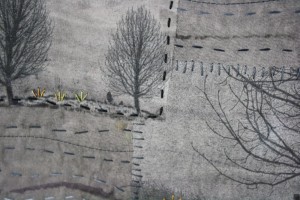 I learned a couple of things about this challenge. You can have fun with gray, and there are many shades of gray!!