It has been a day of getting odds and ends of things done. I felted three more colors for backgrounds for my next  felted piece. I need to do at least six more for the composition I have in mind.
Yesterday, I picked up 2 quarts of Marionberries at the farmer's market. They are an Oregon treat and, like the Hood strawberries, I have grown to love them and like to put several batches in the freezer. I spread them on a big baking sheet and freeze them and then I vacuum pack them in plastic baggies. In the middle of the winter, they taste like summer. I also picked a quart of raspberries in my garden which we will  enjoy some and freeze some.
We have had so much rain that the weeds had taken over my veggie garden so I spent an hour pulling weeds and tending my poor plants that are hoping for some sunshine and warm temperatures.
Tonight we had a veggie feast from my CSA pick up — roasted baby carrots and roasted beets with braised beet greens and an arugula salad with delicious heirloom tomatoes. The tomates were not from Oregon, but were left over from the focaccia sandwich. When I was preparing the beet greens, I was taken with the beauty of the greens and had to snap a photo of them.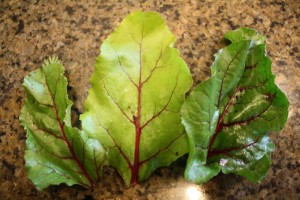 We were hoping that the railing would be installed on the deck before the week-end, but they couldn't get the aluminum ordered in time so we have to wait until next week. Mr C has been working on the area between the house and the garage. I will be happy to have that finished as I have to navigate a construction area every time I go to the freezer or my car.
I took a big sigh of relief yesterday when we were given until September 30th to get work entered in the next SAQA Oregon show. I need that extra month.