I managed a little bit of studio time tonight. I fused 2 more organza sketches to silk for hand stitching. They hope to finish the decking on the outside area of the deck tomorrow so that the aluminum railings can be installed next week. The deck is going to wrap around between the house and the garage where we have our BBQ and will raise the floor so that we do not have to do so many up and down steps.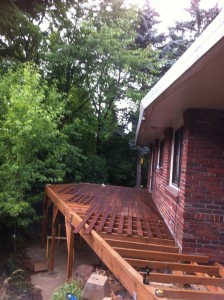 We had a bit of excitement late this afternoon when a golf ball came through the living room window.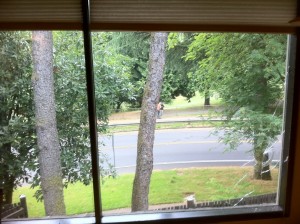 It is a very large window and will be pricey to replace. Mark ran down and found the golfer who hit it. He has offered to pay what the home owner's insurance does not cover. We find lots of balls in our backyard. This is the third window to take a direct hit. The other two were smaller windows downstairs that Mr C repaired.
The next and last Twelve by Twelve colorplay challenge is orange — pure, unadulterated orange. I found these at Trader Joe's today and they followed me home for inspiration.