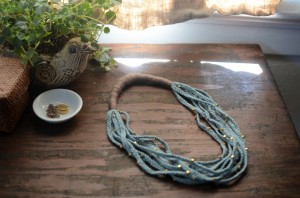 This is a gorgeous necklace made from yarn, designed by my daughter, Stephanie. Isn't it gorgeous?
She and her creative partner, Maria, have designed a new little, limited edition book of two projects and how to illustrations. It features the beautiful yarns of Quince & Co.
You can read more about their collaboration on their blog, 3191 Miles Apart. The book, Interwoven, is available here.
I had a busy week-end. I have volunteered to be a helper a couple of Sundays a month for our Sunday School program — in the art activity room, of course. We had the open house yesterday. I also was helping with the Trinity Art's Committee table during coffee hour. Every activity had a table — er, half a table to display their programs for the coming year. I created a poster for the workshops I am coordinating and a take away bookmark of all our events for the year.
Today, I have been working on labels for my Twelve by Twelve colorplay quilts for their trip to Houston. I ordered large plastic bags for each of the complete mosaics. The label has a photo of the mosaic and a label to identify it's order when they are hung.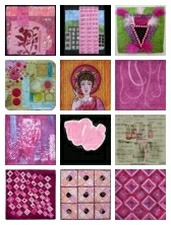 Terry is coming over later this week and we will get them all attached to the felt panels, packaged and ship them to Houston. Time is flying by.