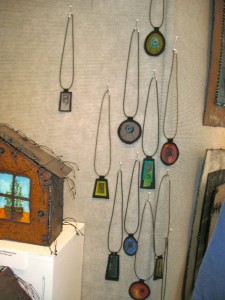 Mr. C, Scooter and I went downtown to check out the Art in the Pearl. These are necklaces made by iber/metal artist, Trisha Hassler. Click her name to see her larger works. She made these miniature pieces because people had asked for something smaller and more affordable.
As an anniversary gift, Mr C let me pick out something to take home. I came home with on of her necklaces.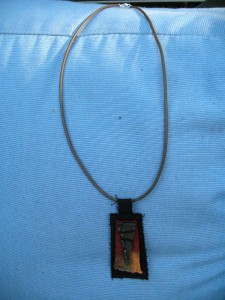 Here is a detail. You can see the fiber background with a bit of metal attached to it, similar to her larger work.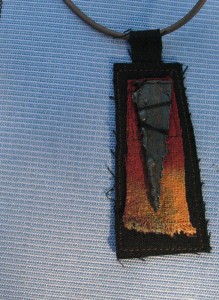 We notice that there were a lot fewer jewelry artists this year, but a whole lot more fiber/felted clothing artists. Here are a few glimpses.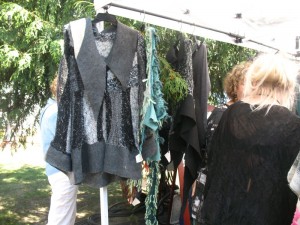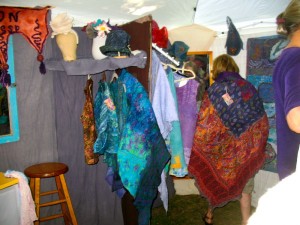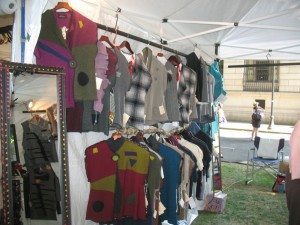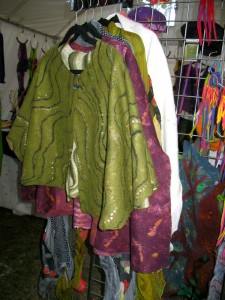 It was very crowded so I was limited in the photography area. After a time, it was like seeing the same thing over and over!
Here is a new take on fiber. This woman crochets paper on which she has made marks with a pen or a pencil. She then cuts the roll of paper into long strips.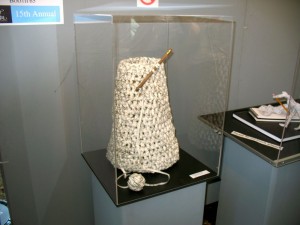 There was a young woman creating this sculpture from twigs. It was very cool.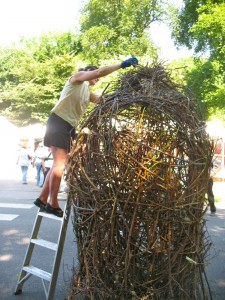 Here is some random art that caught my eye.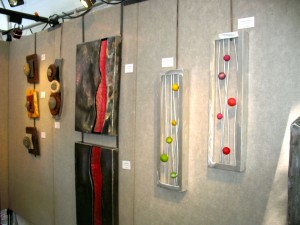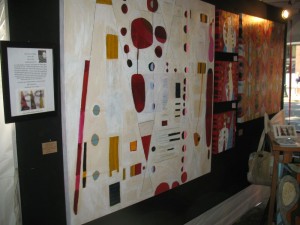 These are encaustics with embellishments. He adds elements that make the work 3-D.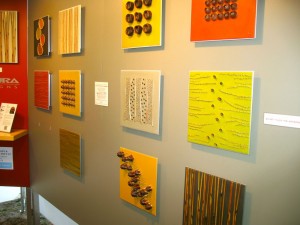 I love fused glass. These had beautiful colorways.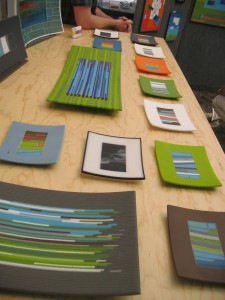 These glass whirligigs always gather an audience.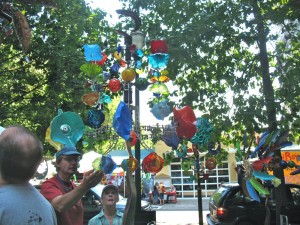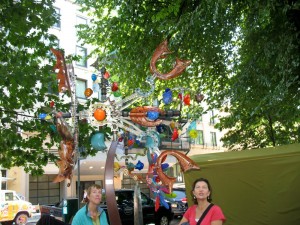 Painted metal pieces, that look a lot like quilt art, don't you think?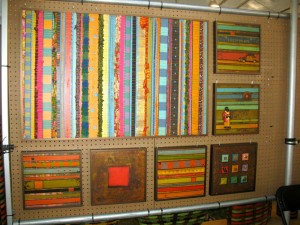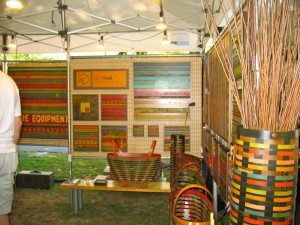 This week-end is our 47th wedding anniversary. We were married on Labor Day week-end so we always celebrate all week-end. Our actual anniversary is on Monday. We are going out to dinner tonight. We were supposed to go out on our friends' boat tomorrow, but the wife is not feeling well so that will happen next week. On Monday, we will have the annual family Labor Day barbecue. We have hot weather, finally. The wind is blowing from the east, bringing us hot air and smoke from the fires.
You can still leave a comment on my August 31 post for a chance to win Masters Art Quilts, Vol. 2. The drawing will be on Tuesday.