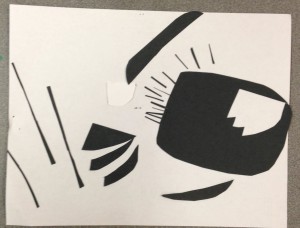 Today was a much better day. After 8 hours of sleep and maximum Aleve dosage, my pinched nerve has gotten better and I had a pretty good day. I promised to tell you about my workshop with Kerr Grabowski. She has developed a new design class. The first two days of the workshop we are only allowed to work in black and white so that we are not influenced by color and textures.
The workshop is at the Southwest School of Art.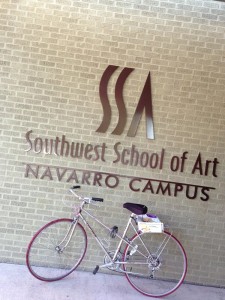 The first floor of our building has two galleries with some beautiful work to ogle. Michael James has an exhibit in the first gallery.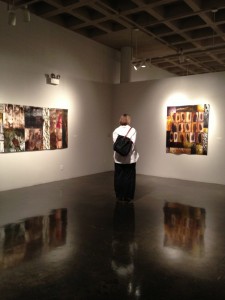 He is doing an artist talk on Friday night of the conference. The other gallery has fascinating work by a Kenyan woman, Naomi Wanjiku Gakunga. Her work repurposes disposed materials and incorporates stitching, twisting, crocheting and weaving. She did an artist talk tonight that was really interesting — she is a great story teller. I will show some images later. It always makes me happy to walk into a building with beautiful art every where you look.
Kerr started us out in the morning doing contour drawings where you look at an object and draw it without looking at the paper or lifting your pen. My object was a school glue bottle.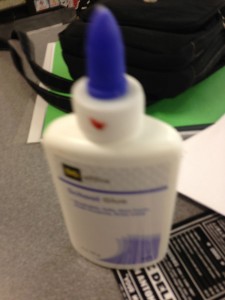 Here are my drawings on the right side of this shot. First, I did my thumb and then the bottle.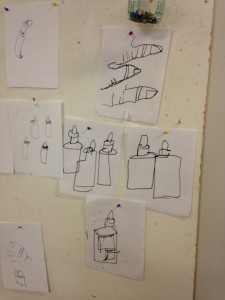 Next, we picked up scissors and freehand cut the bottle shapes and collaged them. Here was my first.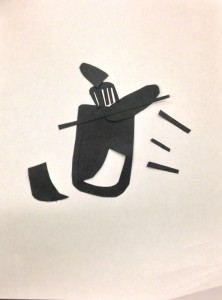 I decided to work larger and did a second.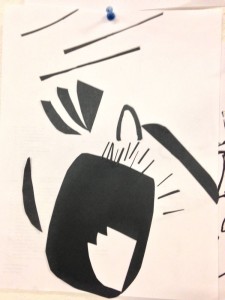 After we completed our collages we went through each one and critiqued it, turned it, removed things, or added things, as a group exercise. Mine ended up with a better orientation and the removal of one item.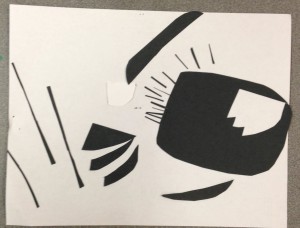 Last night, we went to a really nice Mexican restaurant on the River Walk. I had a super margarita with the sugar syrup on the side so that I could control the sweetness. This ceviche was so good.
I followed that with shrimp tacos, beans and rice. I had trouble finishing my plate of food.
Back in class this morning, we started out by loosening up and drawing on paper on the floor with a bamboo stick with string attached, using India Ink.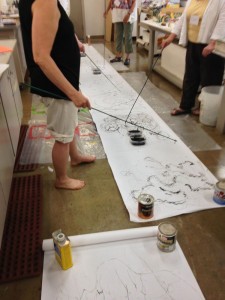 Here is mine: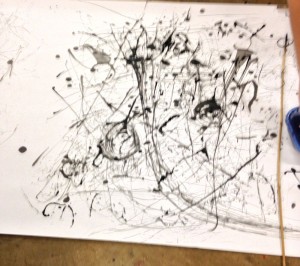 Our next exercise was to show depth just by using black construction paper cutouts. I got to fancy for my britches and was not happy with what I did so no photo.
This afternoon, we were to show aggression by using shapes. We could use our india ink drawing if we wanted to, and I did. I isolated one area and cut out a rectangle. We could also use one color.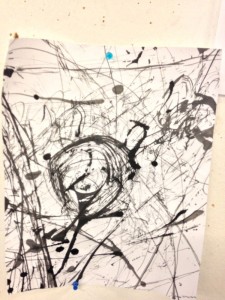 I did various things using big  black X's, zig zaggy lines, red spirals, etc. Kerr told me she would not allow me to do something so easy. She wanted me to explain why I wanted to use this background. I said it looked scary, like a place where you could get caught or a raging storm. She suggested I figure out a way to expand on that idea. So, I went where I don't usually like to go! I put the hint of a body caught in the brambles. I added black lines over the top to simulate being caught in the mess.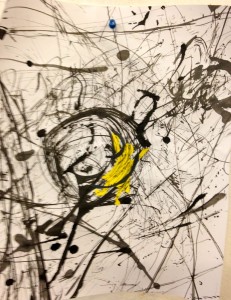 I won't be able to take the last day of class because I have to start handling registration for the conference in the morning.
Here are some images of Naomi's work.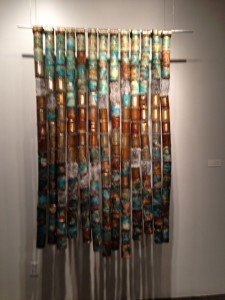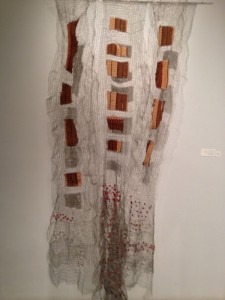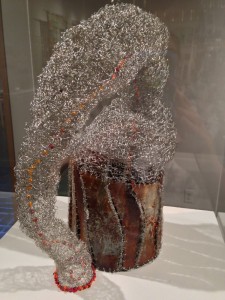 I had dinner with some SDA folks after the artist talk. We took a long walk on the river walk and it was quite comfortable even though it had  been in the 90's earlier in the day.