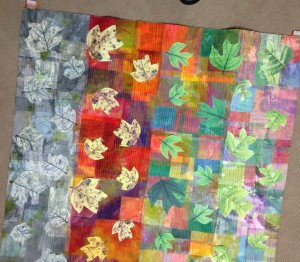 All things being equal, there are things I would have done differently on this, but I am finishing it tomorrow and will get it photographed. The title is " Taking Leaf of My Seasons." I struggled with the leaf component. One of the quilts in Quilt National this year consisted of leaves that were scanned and printed and arranged in a composition. In the end, I thought why not!?
I arranged and rearranged the leaves and glued them temporarily on the background and then stitched them and left them lose on the edges so they look as if they are floating.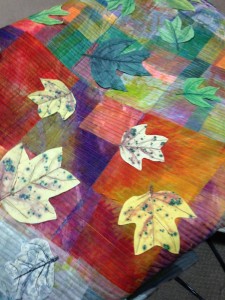 For the back, I am using the big piece of fabric that I was gifted with in San Antonio. It has my name spelled out. I stitched two long edges of facing tonight. So all I have left to do is the top and bottom facings.
I am still dragging around with this virus. I wake in the morning and think I am ready to roll and as the day goes on, I get tired, achy and cranky. Having the roof work done is not helping. I wanted to crawl in bed and take a nap this afternoon, but they were working right over head and so that was not to be. It is dusty, noisy and I can't wait for it to be over.
To add to our misery, Mr C's jeep was broken into last night. We had to leave the cars out on the street because of the new materials and the roofer's truck in our driveway. They broke a back window and took an old laptop that was with some other old computer stuff that Mr C was taking to the Free Geek recycle center. They no longer make the window that was broken so he had to go to a junk yard to find one and then have it installed. The good news is that it cost less than $100.
I hope that the next time I am back here, things will be looking up around here. I am tired of the plodding.