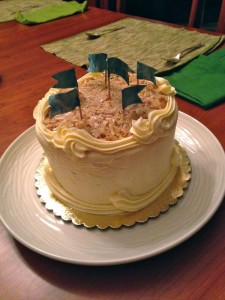 Here is my cake – a delicious gluten and diary free Irish oatmeal spice cake. Steph made little flags out of silk shibori that we dyed together.
It was a nice, uneventful day. We are beginning to get some fall color. Makes our daily walks very enjoyable.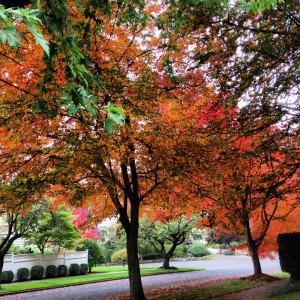 I saw this pile of pumpkins on my shopping trip yesterday.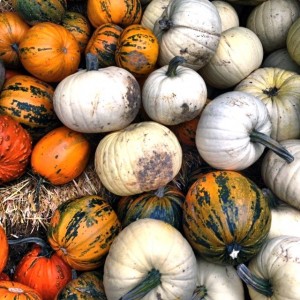 My present to myslef was a clean-up from the recent creativy and bobbin hunt. I got my Janome back yesterday and this afternoon, I got the pet postcards ready for their backing.
These two are on some deconstructed print fabric.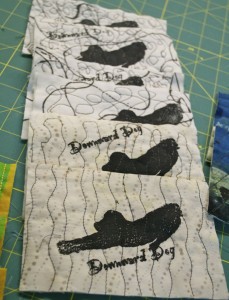 These are done on whitish fabrics – I think the Scooter motif shows up better.
Here are my Maggie cards.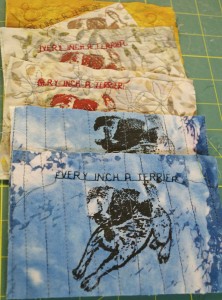 The yellow and green ones are from a print I did with a masking paper resist on a silk screen. I used green paint on yellow fabric. I am glad I finally found a use for it.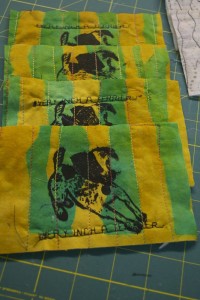 Tonight we had dinner at a Japanese restaurant that specializes in tasty small plates. It was very yummy. Miles dressed very nicely for the event. I love that he likes to get dressed up.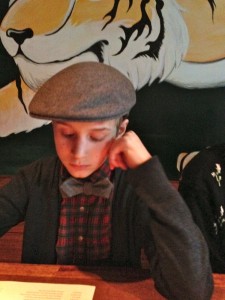 As we left the restaurant, we saw this tree illuminated by red lights from the restaurant and the moon. Awesome sight.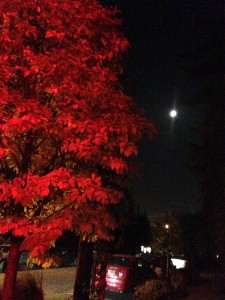 So that was my birthday. We are extending it a few days with a trip to Camp Sherman in the mountains of Central Oregon on the Metolius. We have a cabin for two nights and can take Scooter with us. I will try to post some photos from there.