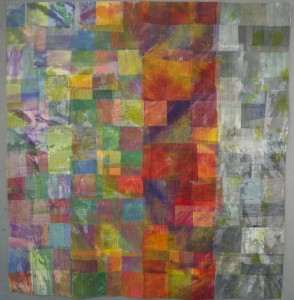 I am plugging away on this big piece while I am dealing with a nasty virus and men on my roof, making noise that hurts me to the core. This particular virus made its way through the Barnes family and then skipped over here to me. Fever, swollen glands, dizziness, sleepiness – ack! So, will I finish this in time to photograph it and enter it on line?
I got the background quilted over the week-end, in short spurts, a section at a time.
Spring: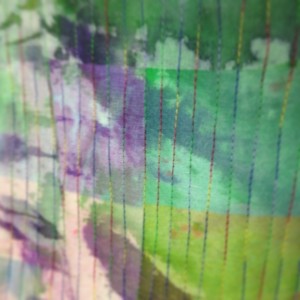 Summer: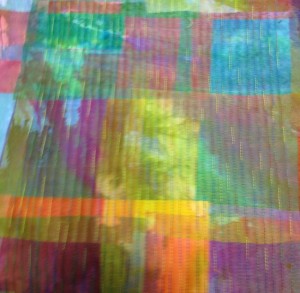 Fall: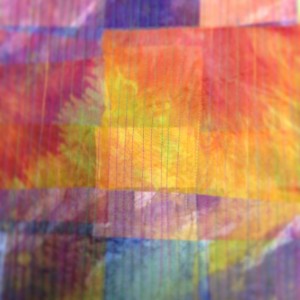 Winter: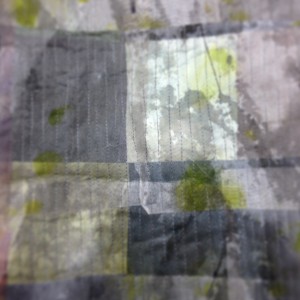 So far I have 3 layers – hand-dyed cotton, painted organza and thread. The next layer will be tulip tree leaves. I got the idea of making this quilt because when I walk around the neighborhood, I pick up leaves for their colors or shapes and bring them home and scan them. I love the shape of tulip tree leaves, they are kind of short and curvy, like myself!
I am trying to use up what I have in my studio and not go out and buy more stuff. I found this roll of Jacquard paper  backed habotai silk on a roll.
I played with my scanned leaves in photoshop and printed them on the silk. I  then fused them to cotton crinoline to give them some shape.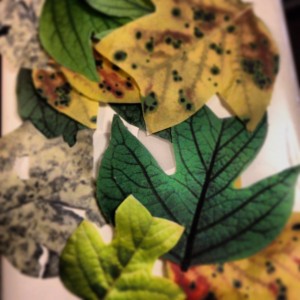 I have pinned them to the background and now I am deciding if I am ready to stitch them in place. I was orginally going to make thermofax screens and screen a layer of leaves and then add the silk leaves. Seemed like too much to me. Today, I almost bagged the silk leaves and was about to make screens and screen the leaves. I just don't have time to deal with that and so I think I will stick with these. What do you think? You can click on any image to see it larger.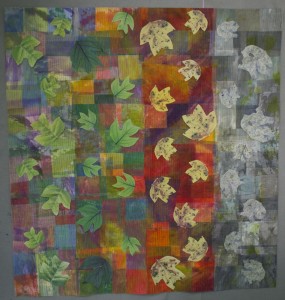 I need to crash. It has been a long day.