One year ago today I started a blog so that I could share pictures and creative endeavors with my daughters. Little did I know where this would take me and the wonderful friendships that I would make in the blogosphere. Thank you to Diane for starting the Artful Quilter's Web Ring. It has been a wonderful experience to be part of this group. As of a few minutes ago I have had 47,000 + visits to my blog!!
We have just finished two grueling days of looking at houses – 22! We have looked in vintage neighborhoods, hillside neighborhoods, new houses, old houses, really cool houses, not so cool houses, houses on the lake, small houses, big houses – you get the idea!
To make this quilt related, look what I have been up to when I am in my hotel room: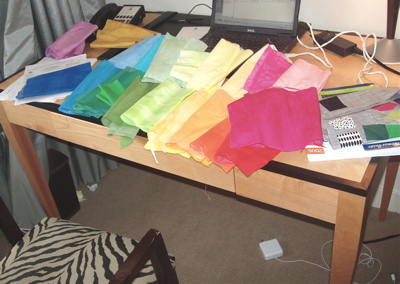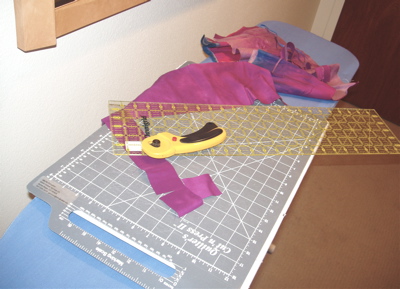 Did we find a house, you ask? Well, yes. We made an offer on the very first house we looked at yesterday. It was the only one that really met our criteria. The irony of it is that Steve did not want to look at this house. It has a lot of square footage and he just thought it would be overwhelming. It is about 5600 sq ft, but half of it is the basement. It is a mid-century modern daylight ranch, meaning that three sides of the basement are not underground and have windows and a sliding glass door to a patio. The main floor actually has a very usable, livable 2700 sq ft.
The house has had one live in owner who built it in the 50's. It was purchased a year ago and lovingly restored and the kitchen was remodeled and upgraded. It is in the neighborhood of Eastmoreland and is adjacent to Reed College, across the street from a golf course and very near the Rhododendron gardens. There are great places to walk Maggie and ride our bikes. It is near great shopping and restaurants and Mia's best friend, Madelyn!! It is about a 10 -15 minute drive to Stephanie's.
Here is the exterior and the front doors (we may add windows):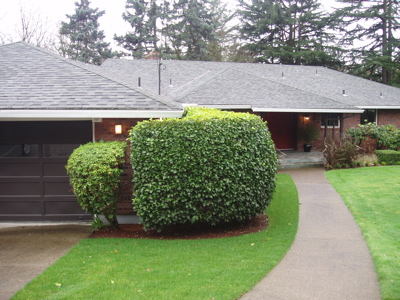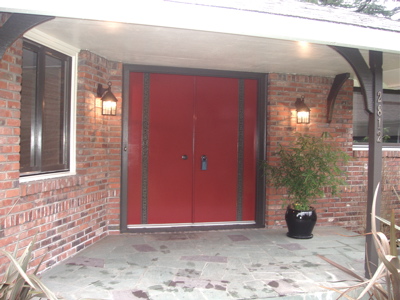 Here are some views of the kitchen: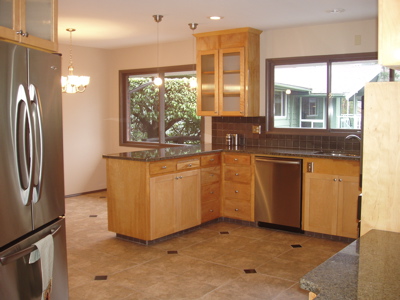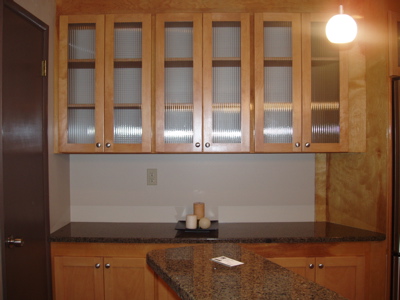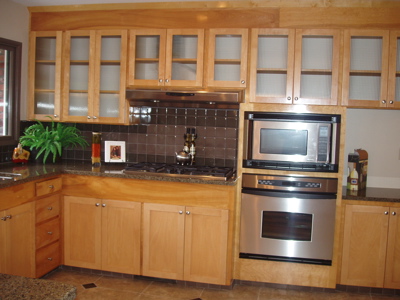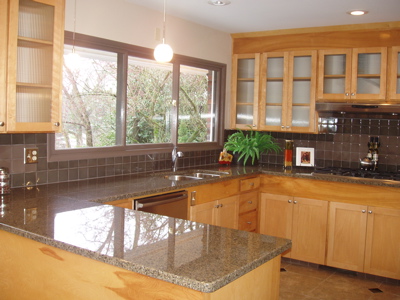 Here is the living room with the awesome 50's fireplace. The walls are curved – that is not a weird photo thing – they are paneled in a wonderful wood.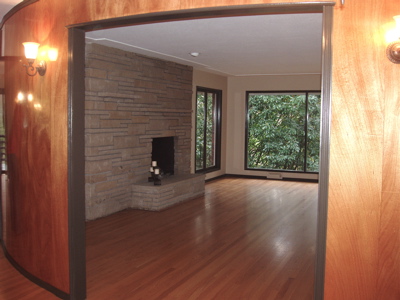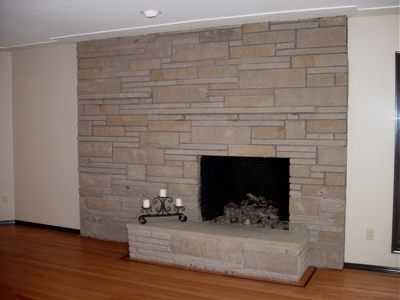 The kitchen is to the left of the living room and there is a room off that with a fireplace and big windows and doors to the deck which we will have as a dining room – it was meant to be a family room. Here is the fireplace: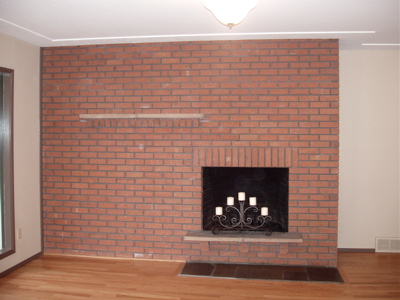 The actual dining room is across from the living room and not very open so it will become Steve's office. Look at these pristine vintage bathrooms. The tile work is in immaculate condition.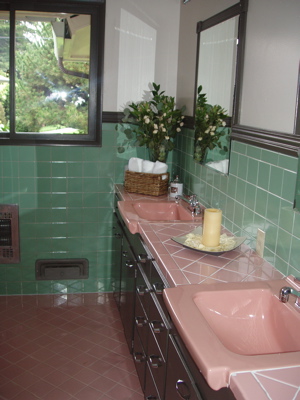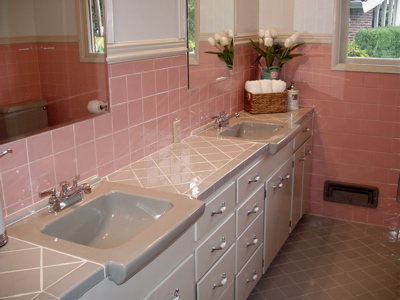 There is a large master bedroom with 4 closets and two other bedrooms.
Downstairs in the daylight basement will be my ultimate studio!!!
There is a large tiled room with windows, and a sliding glass door to a patio. There is a fireplace and a sort of kitchenette with a sink and a place where I will put a fridge for holding dyes.
Here are a couple of shots of the room: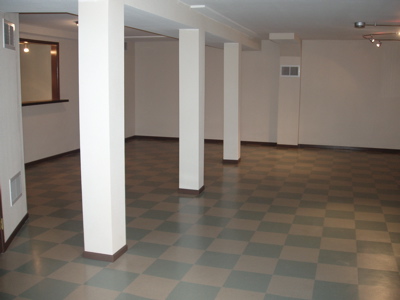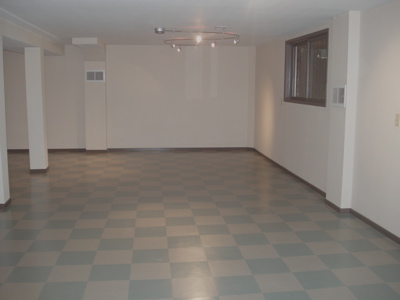 Here is the fireplace: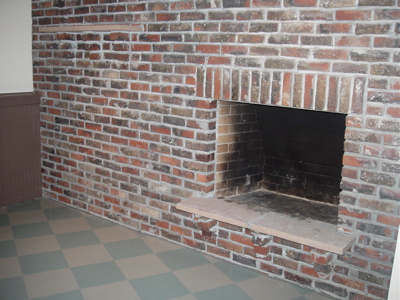 The downstairs also has a carpeted room with another fireplace that was probably a family room. We don't know what we will do with that. It has dark wainscoting and not much window light. There is a full bathroom and a room that has a concrete floor which will be perfect for drying dyed fabrics and a workshop for Steve, roller skating for the grand kids – a real multi purpose room!!
So there you have it. We are waiting for the sellers to counter or accept our offer. Cynthia, our Realtor just called to say that the other agent seemed happy with our offer. I am babysitting with Mia & Milo. Steph and Jack have gone to a concert and Steve has gone to pick up Lisa at the airport. She was supposed to arrive at 7:30 and her flight didn't leave until then.