There is a used craft supply store in Sebastopol called The Legacy. The donated stuff is sold and the money is used to support the Senior Center. Today I picked up Janet and we took a bag of stuff to donate: yarn, unfinished needlework, artificial flowers, etc. While there, I had to look around and I found a folder of prints of the most amazing stitchery pieces by an artist named Martha Mood. I looked her up on the Internet. The original tapestries sell for $2700 – 4500 on EBay!
When I saw them, I just knew that my daughter Lisa would love them. I tried scanning these, but I installed Tiger on my computer and it won't work until I install a new driver which I had to order. So these are photos taken with my digital camera.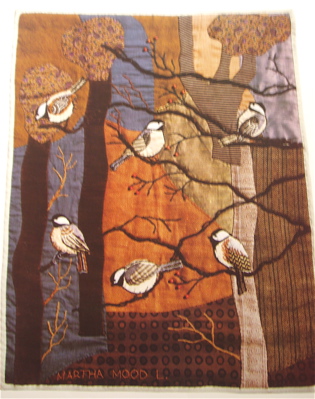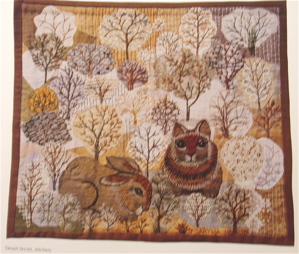 I love the trees in this one. Each tree has a piece of fabric on which she has stitched the outline of the trees and branches.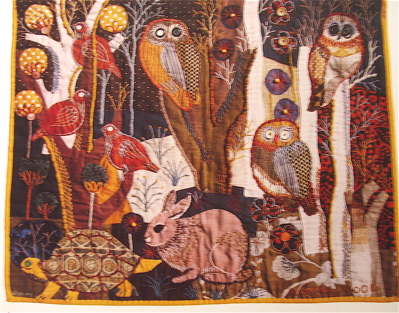 I found this interesting information about her and her work;
Her involvement with appliqu?…¨© stitchery was
prompted by the fortuitous gift of fabric samples from a designer
friend in 1959, at a time when Mood was reading a book on the
creative possibilities of stitchery. Her earliest work was quite
simple, merely glued arrangements of fabric shapes that nevertheless
demonstrated her mastery of composition with color. She later
began to experiment with embroidery, which gave an extra dimension
of color and texture to the surface of her appliqu?…¨©s. She
used a m?…¨©lange of "found" fabrics such as denim,
velvet, silk, lace, old blankets, and used clothes in her wall
hangings and amplified the textural richness of her embroidery
by using yarns of different width, braid, and twine. Flowers,
children, nudes, and wild and domestic animals were frequent themes
in her wall hangings; she also made ecclesiastical banners and
abstract works inspired by Matisse's cut-outs and the cubist collages
of Picasso and Braque.
Janet and I also went to one of the local quilt shops where I had a gift certificate. I spent it and more!! I am working on a beaded fish quilt for an auction next week-end in support of The Living Room, the day shelter for at risk women and children that is at our church. We are having a big Mardi Gras thing – so I have to come up with an interesting outfit to wear. I have two of the fish collaged and fabric selected for a third. Today I bought background fabric and some fabric that I can fussy cut for underwater tropical plants. I will get it all assembled and quilted tomorrow. Then I can sit and bead and watch the Olympics this week.