I made some progress on the new tropical fish quilt that I am making for the auction next Saturday to benefit the homeless and at risk women's shelter at our church. I am really frustrated because I need to do a lot of beading on this, and I just realized that all my beads are in storage. I also have a gift certificate for $50 for Fire Mountain Gems and Beads (part of the president's gift from my guild) and that is also in storage. I made out an order on the web and was going to have it Fed-exed and I realized I didn't have the certificate. Duh! Mr. C is going to empty the storage locker tomorrow – it had to be done sooner or later.
Since I have made one of these, I am doing things differently. First I sandwiched the background with muslin on the back and machine quilted it in my favorite water design.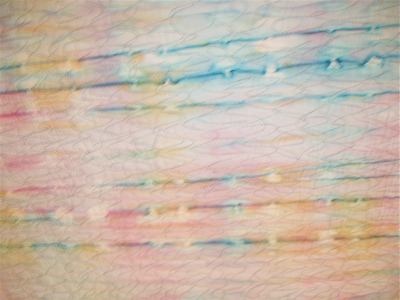 Then I added the collaged fish and the underwater plants that I fussy cut from commercial fabric.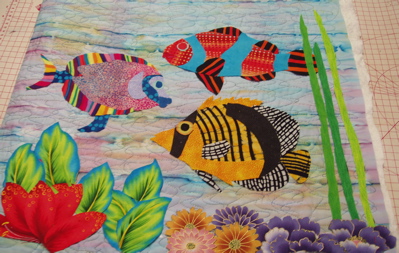 Tomorrow, I will free motion quilt these elements and add some decorative yarns for texture. And then I will hope that some beads show up!! After the beading I will add another back to cover up the mess I make when I do the beading.
You all know how much I love the serendipity of blogging. Today I got an e-mail from Kathleen who currently lives in Paradise, CA. A friend pointed her toward my blog because she and her husband of 43 years are moving to Portland this coming Friday. They are moving to a neighborhood that Steve and I love, Alameda. She is a quilter and was even president of her guild. Can you believe it? My friends keep telling me I am leaving paradise for Portland: she is really leaving Paradise!! We will get together once we get moved.