Note: I am such a dork. I wrote this post as a draft before we left NY and forgot to post it. So here it is!!
Before, I forget, here is a link to the metal sculptor and his artistic family that I posted about yesterday – Frog Pond Art.
My main reason for visiting New York this week was to attend my 50th high school reunion and a family reunion. On Friday night, some of the out of towners met for dinner with our significant others. There were 11 of us ?¢'Ǩ'Äù I was excited to see and old friend, Peggy, who now lives in Tacoma, WA. I hadn't seen her in ages. Also joining us was our Episcopal priest classmate who now lives in Montery, CA and his wife Ann. Another surprise was our classmate Gregory who everyone thought was dead or in prison because even his family had not hear from him in 25 years. He lives outside Atlanta. Two of my good friends, Evie and Tish rounded out the group. I had my camera, but was having too much fun yakking to remember to take pictures
On Saturday, we met at a park in my hometown for chicken BBQ. Here are some class members enjoying the picnic lunch in the t-shirts that I made. The t-shirts were very well received.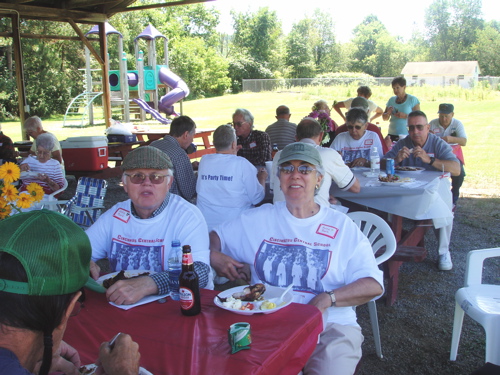 See the back of the guy in the green hat? He is wearing braids and and Indian arrowhead around his neck. His name is Art. He has been driving trucks across the country and told me he loves Oregon. We sat around and chatted and caught up with everyone until about 3 pm and then made a mad dash to get cleaned up and changed for the evening festivities. At 5 pm we sat through a presentation including lots of music and introduction of those having a reunion. We were the honored class because it was 50 years. We went on stage and had a roll call and did a little presentation. I also sang in the alumni chorus which was fun. Here is a photo of my high school. The main building has not changed over the years: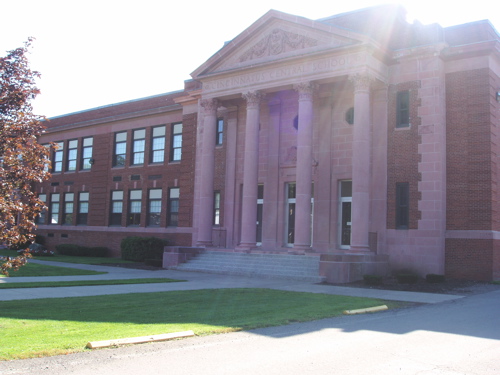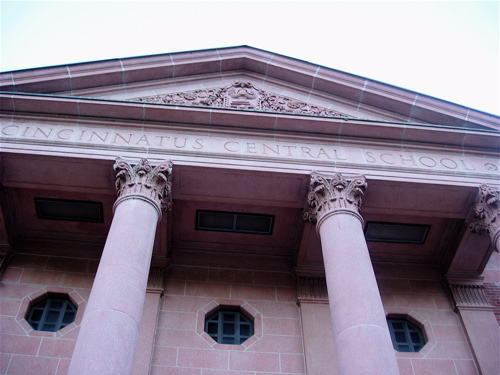 Before too many of us left, we went out on the front steps and had our photo taken.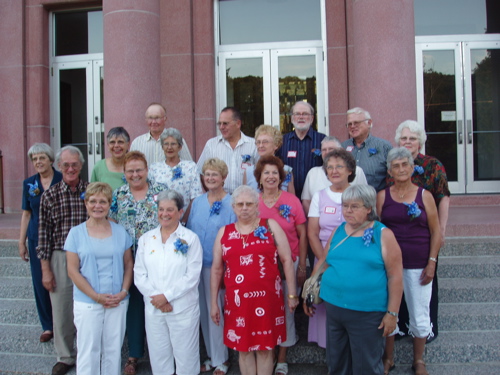 I always get freaked out about how big my head looks!! I think a total of 23 -25 showed up at one time or another. There were 32 in my class and four have passed away. One of the greatest things was connecting with teachers from as far back as second grade.
Yesterday was the family reunion and frankly it was anti climatic. We didn't have a good turn out and I didn't take any photos. I was actually quite exhausted from the previous day.
Mr. C and I had a great day today. We went to Aurora, NY on Cayuga Lake to the home of MacKenzie Child's pottery, which I love. Pictures tomorrow, after we get home. We are leaving on a jet plane early in the morning and will be back in Portland by noon!!