Mmmm! We just had a great dinner of grilled beef fillet, baked potato and Caesar salad. We enjoyed a wonderful bottle of Zinfandel. We were going to go out to dinner, but I surprised Mr C with the makings for this meal. Now, I am feeling very mellow.
Today, I finished more postcards for the Heart 2 Heart project. I further embellished one of my discharged pieces with rubbings using neocolors.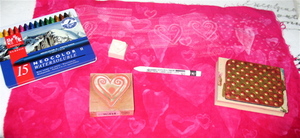 Here is the final fabric: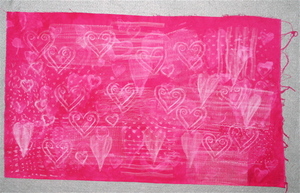 Here are the 10 postcards that I sent off today: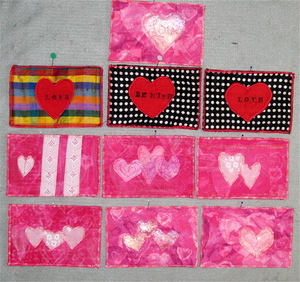 Here is a closeup of the simple cards with hearts and a stamped design.

Tomorrow, Steph and Jack are going on a little trip out to the gorge, overnight, so M & M are coming to spend the week-end with us. I am very excited to have these wonderful kids for a whole week-end.