Yesterday, I couldn't wait to get down to the studio to work on Fragments. So after church, walking the dog and lunch, I went to work. I could only work until 4:30 because I had to make pizza for Sunday night supper with M & M and their mom and dad. I made the adults a yummy over loaded pizza with chicken sausage and lots of veggies. M & M had individual pesto and cheese pizzas.
Back to Fragments. I finished the machine quilting on it yesterday. That made the different sections look a little more integrated. Today, I started thinking about additional elements to embellish the piece. I did printed some more text. I found some beads and some old lace that I smudged with paint.
I also cut up some copper mesh into pieces and sponge painted it with blue-green, green and black to give an aged verdigris look.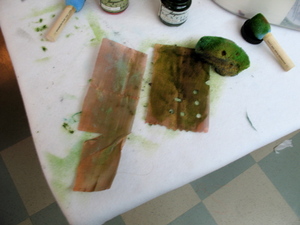 Here is a closeup of some of these elements pinned to the piece for auditioning.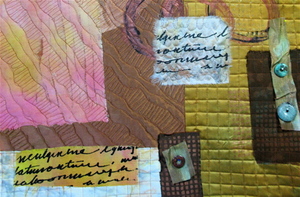 And here is a look at the whole piece with the audition pieces. I have additional things to do with it. I want to use that old lace some how. You can also see the satin stitched embellishment that I have added. I may add some of that to the lower section. You can click on any of the photos for a larger view.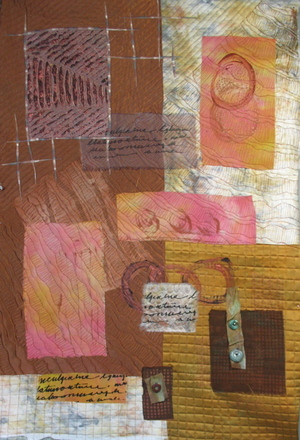 I am anxious to get back to this tomorrow, but right now I must stop blogging and give Heroes my complete attention.