Last night when I went to bed, I had an epiphany about what I wanted to do to Fragments. There are small bits of turquoise in some of the fabric and in the beads. I felt I needed more of the turquoise because it is a complement to the corals in the piece. I decided to screen print some images in turquoise directly on the piece. (Nothing ventured, nothing gained!)
I was also rummaging around in a box of embellishments that I received from my guild in Santa Rosa, as a president's gift. I found this roll of silk ribbon which is sort of falling apart. I really love it, but I didn't know how I colud use it. Fragments, of course!! Falling apart is good.
I have a screen that I made that is just simple lines. So I screenprinted with the lines crossing to mimic the satin stitching.
Here is Fragments, now, ready for the binding.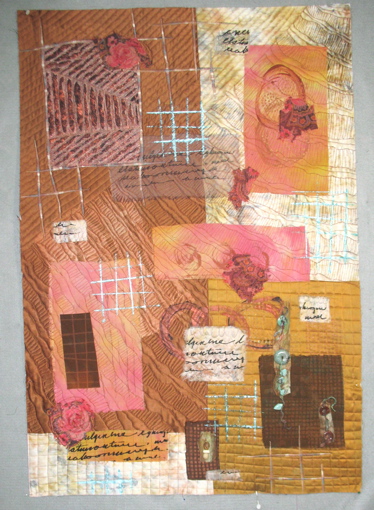 Here are a couple of closeups. I love how the rose shape in the ribbon fragments mimics the monoprint shapes.
Terry and I went out to lunch and then went shopping at Fibers in Motion where I had a nice gift certificate from my art quilt group in Santa Rosa. I had never spent it. I bought lots of Kaffe fabrics with violet in them to make a quilt for my great niece Viola Berlin. Some of these are not Kaffe, but complement them.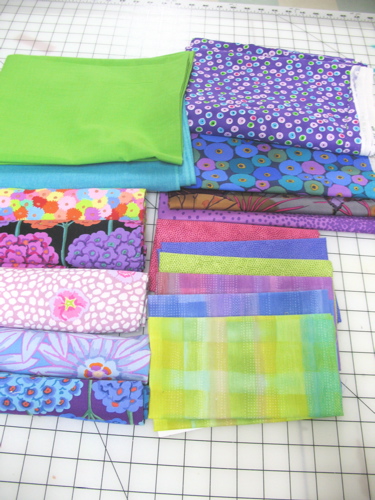 I also found these nice geometics for my stash.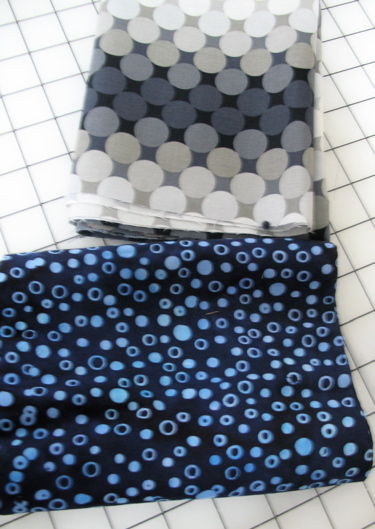 I have to finish packing. Maggie is in the kennel. We are leaving early in the morning. We will spend the week-end in Santa Rosa catching up with old friends. Then on Sunday we head for some warm sunshine in the California desert. I am taking everything I need (I hope) to make the Kaffe quilt in my spare time. We will have a little apartment. I will be checking in to let you know what fun things we are up to.
I can't get the spell checker to work, so hope I have not made any glaring errors.