I spent the morning dealing with the new blog and website issues. Andrew of Gloderworks uploaded the most recent version of WordPress. It has more features that make me happy. Uploading photos is a breeze.
I also sent Breaking Barriers off to the Quilter's Hall of fame in Marion, Indiana. I put it in one of the Fed Ex tubes and we walked up to the Fed Ex place with Maggie. It was a typical Portland winter day — breezy and drizzly. By the time we got home, it was raining quite hard.
This afternoon I went back to work on Fragments. I did some more stitching and played with some embellishment ideas. The premise for this quilt is to represent the vestiges and ephemera that we leave behind as we move from place to place.
Here is my latest version. I think it might be close to being finished. I am going to bind it with fabric that matches each section so that it flows out to the edges.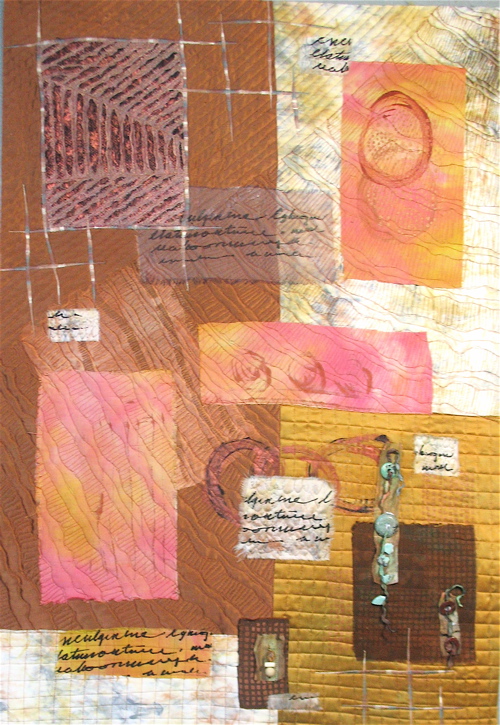 Here is a close-up of the bead, ribbon and copper mesh fragments.

Tomorrow, I am going to take Terry out to lunch. Then we will go to Fibers in Motion where I plan to buy some fabric to make a baby quilt for my neice's baby, Viola Berlin.