It took me awhile, but I finally finished cleaning down here in the studio. For the last couple of days I have been working on reorganizing and cleaning the little kitchen area next to my studio. It is where I do my dyeing and wash paint brushes and screens.
I decided to move my paints to a rolling cart out next to my surface design table. It was too difficult to find the color I wanted in the cabinet. Now I can just remove a drawer out and take to the table to work.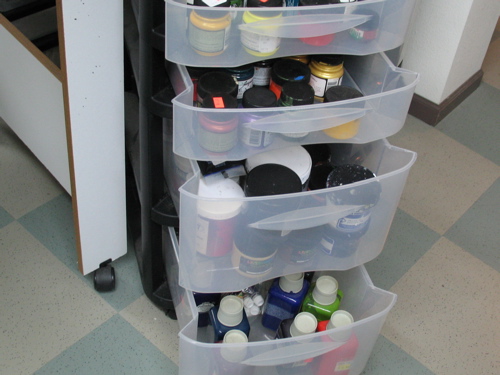 This afternoon, I decided to finish a piece that I started long ago, before I moved to Portland. In fact it was almost exactly two years ago, in a class with Mrs. Mel at PIQF. I did independent study because I had taken her class before.
While perusing calendars in a bookstore, I came upon the work of Ton Schulten. I wanted to try to do some landscapes in his style, but with fused fabrics. So I experimented with making a piece in the class. I had never quilted it. How to quilt it had always eluded me. Today I just decided to jump in and do it. I call it Twilight House.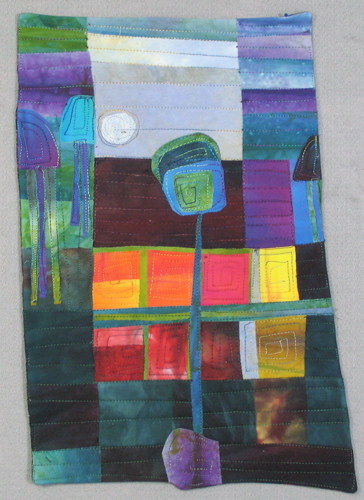 In December, the High Fiber Diet group is having a show of Journal size quilts at the Unitarian Church gallery in Beaverton. My plan is to make one a week through November.
I am so excited because I have signed up to take a class with Wendy Huhn at the Contemporary Crafts Museum. The class description is:
explore hands-on a myriad of techniques for transferring images onto textiles. Participants will work in small format with a focus on experimentation, transforming ideas into imagery, and developing a personal vocabulary.
Except to report that it is raining and cold, there is not much else to report. Steph and Jack just celebrated their 10th wedding anniversary and they are going on a little trip up to Seattle at the end of this week. I will be packing lunches and doing the driving to and from school for a couple of days.