I have had a nice day. My STASH group met here today. We didn't discuss our book. We had a few things for show and tell, but we did the most important thing — we talked a little, laughed a lot and had a great time catching up. I prepared a tortellini soup, pear, green bean and feta salad and an apple tart for dessert. I should have taken some photos before we consumed the goodies! And they were all WW recipes!!
This afternoon, I added the finishing touches to my last Round Robin collage piece. As I mentioned yesterday, I did two and it is a good thing because I noticed today that the first one I did was the wrong orientation on the page! Here it is. I used some of my Chinese Good Luck papers, and some motifs and a dragon that I printed. It also has an embroidered dragon, a red tassel and some old Chinese coins.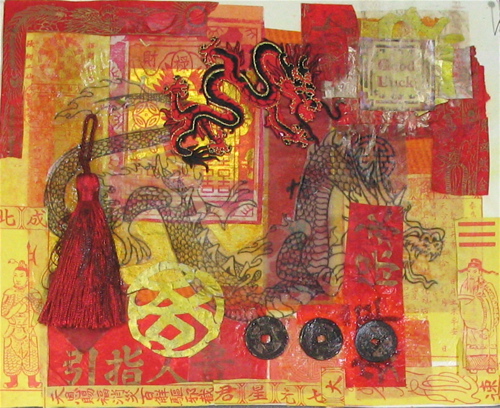 The other piece is my favorite. The first layer is torn tissue paper in 4 different colors. Next, I cut some curvy strips of a piece of art cloth which I glued down in a circular design. I then monoprinted a blue similar circular design. The final layer was copper foil. I painted glue with a brush and after it dried, I added the foil.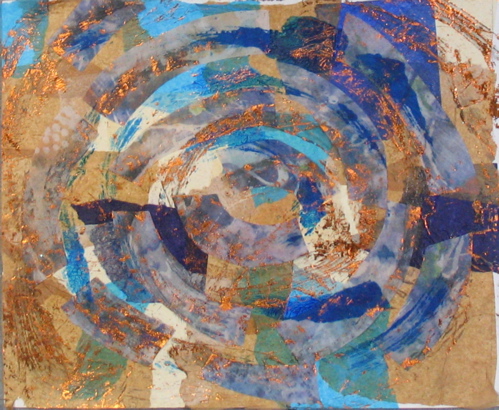 I decided that it needed a little more depth and detail so I stamped various designs using Tsukeniko inks.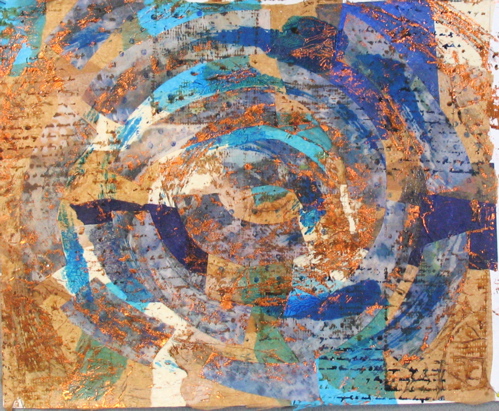 I need to get these shipped off to Rita as she has been waiting a long time for her work to return.
The other activity that is occupying a lot of my time involves this: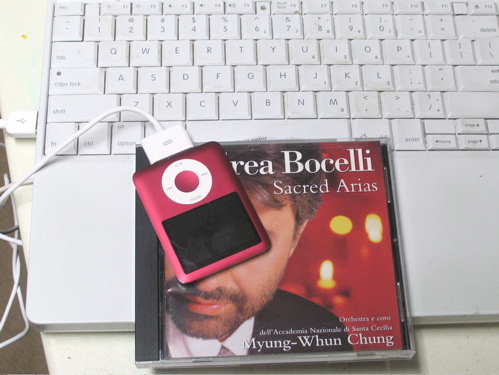 I used some of my American Express points to acquire this shiny red IPod Nano. I am in the process of uploading all of our cd's. I was complaining to my son-in-law, Jack, that I was having a problem managing all of my cd's and he suggested that I upload them to an IPod and use it to play music in my car and on the home stereo. Brilliant!!
Tomorrow is the real Columbus Day and my birthday. It is my last year in my 60's – eek! However, when I was shopping at Mill End's yesterday, the clerk said – You aren't 65, are you? Ha! I almost didn't admit it, but I wanted the discount.
M & M are out of school and so we are going to go out to Hood River and hunt down apples and pears and pumpkins and have a birthday picnic. Doesn't that sound perfect. Mr C will take me out to dinner in the evening. I am a lucky old broad.