This week is turning out to be a fabulous art quilting week. I just finished Wendy Huhn's class last night. Today, I went to see a show of work and hear a lecture by Ann Johnston. Friday, I am heading to Tacoma for the Quiltart Symposium for a couple of days. Whew!!
Here are some images from yesterday's work in Wendy's class. In the morning, we did transfers of images using transparencies printed with an ink jet printer and gel medium.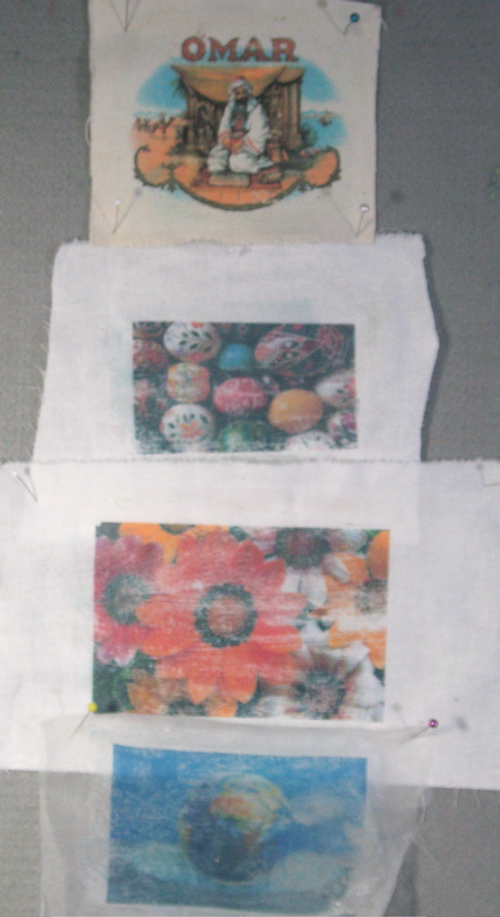 The top transfer is an old cigar label – Omar, the tent maker on canvas. The next two are photos that were transferred to cotton. The bottom is a photo of the earth transferred to organza. This was so much fun and quite easy to do. Any kind of ink jet printer can be used, but you must have ink jet transparencies.
In the afternoon, we made these fun acrylic stamps with leftover squares of acrylic and that foam stuff you find at Joann's and Michael's.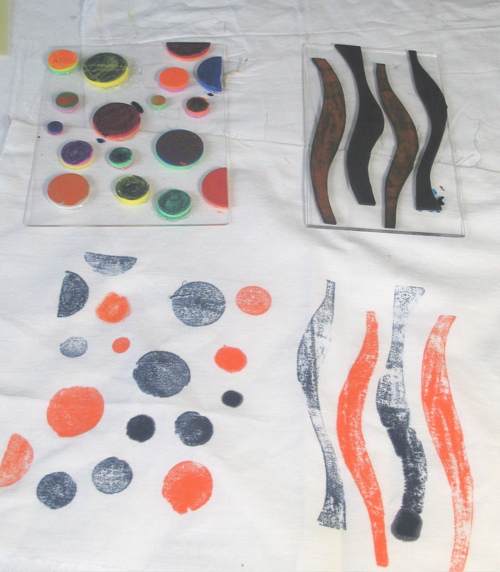 I am not sure how much I will use some of these transfer techniques, but I loved hanging out with other artists and being inspired by them. One of them was Trisha Hassler, who I have mentioned before. She does the work with metal in her work. She is such a great person to hang out with for a few day.
After a disappointing weigh-in at WW (I was up a bit), I spent some time getting some computer stuff done before Terry picked me up for our Art Date with June. We took in a small quilt show of Ann Johnston's work at the Vancouver campus of the Washington State University. Ann did a lecture which I thoroughly enjoyed because I love, love her work and want to try some of her dye painting techniques. Yum!
Here are June and Terry checking out the quilting on this whole cloth quilt. Ann is now using a long arm and loves the quilting that she can do with it.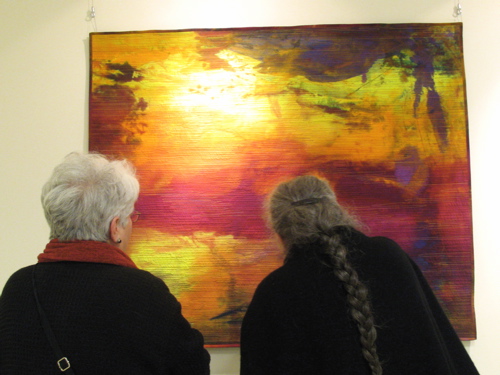 After the show, we enjoyed a nice dinner together. I always enjoy my time with these Portland friends.